How Dental Implants Work – Waterbury, CT
Rebuild Your Tooth from the Root Up
Dental implants in Waterbury are unique from any other treatment because they rebuild the entire structure of a tooth from the root up. The process requires several steps to ensure the long-term success of your new smile. Each phase of your plan is essential to give you a nearly perfect replica of your natural tooth. Here's what you can expect when replacing your missing teeth with dental implants.
Initial Dental Implant Consultation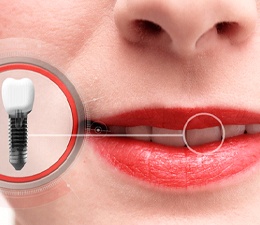 Dental Implant Surgery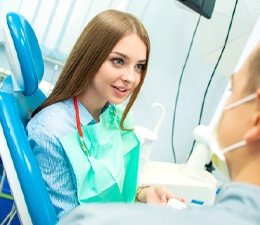 After healing from any previous procedures, you will be scheduled for your implant placement surgery. To ensure you're comfortable, sedation or anesthesia is used as your gum tissue is opened to gain access to your jawbone. With the help of computer-guided technology, a small hole is drilled into your bone to insert a titanium post to act as a new root. Your gum tissue is stitched closed, and you'll begin the healing process.
Dental Implant Osseointegration & Abutment Placement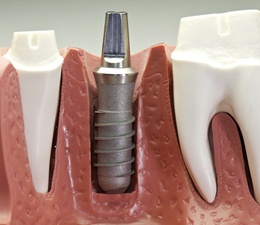 The implant post will stimulate your jaw to encourage new bone growth. Over the next several weeks, your jaw will fuse to the post through a process called osseointegration. Your post will be secured in place to provide a strong foundation for your replacement tooth. You'll never need to worry about any instability using a solution that can last for decades with the right aftercare, like maintaining your oral hygiene.
After your bone has fully healed, you'll need a second minor procedure to add a special fixture to the post, called an abutment. It's a connector piece between the post and your restoration. On average, it takes about 2 weeks to recover from the procedure. During this time, the dental lab will be creating your new tooth.
Placement of Dental Restoration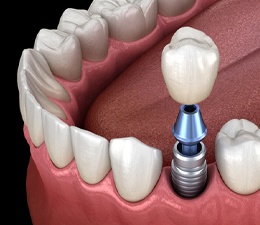 Your restoration is carefully crafted from all-ceramic material to meet your exact specifications. It will match the color, size, and shape of your real teeth, so no one will know it is not your own. You can chew, speak, and smile confidently knowing your restoration looks and feels natural.
If you're ready to restore a beautiful smile, take your first step toward a better quality of life. Contact our office today to schedule your consultation for dental implants with your dentist in Waterbury.