Cosmetic Dentistry in Waterbury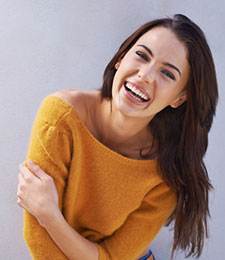 Everyone deserves a beautiful smile. A good looking smile can work wonders for your confidence. Think about the last time you saw someone with a drop-dead gorgeous smile – what was your first impression? Were you impressed? Did this person look confident? Never underestimate the power of a gorgeous smile. If yours is riddled with stains, breaks, chips, or gaps, then consult with our dentists about a smile makeover! Waterbury Smiles offers cosmetic dentistry options that can brighten, repair, and renew your smile. We can even combine cosmetic dentistry with restorative dentistry for a full-mouth reconstruction! Whichever service you choose, our Waterbury cosmetic dentist is ready to help! Dr. Marini provides cosmetic dentistry services that will leave your mouth feeling healthy and happy.
Teeth Whitening
Your smile may appear dingy, yellow, or stained for a number of reasons. What you eat and drink, your age, your genetics, and the state of your oral health can all contribute to dull-looking and discolored enamel. Patients find themselves hiding their smiles instead of showing them off. At Waterbury Smiles, we can brighten your smile with our teeth whitening services. We use a take-home professional teeth whitening kit.
If you opt for home-whitening treatment, we can create a customized teeth whitening kit for you. We make molds that comfortably fit your mouth and give you a high grade of bleaching gel. You will use the kit every night and in two weeks or less, you'll have a brighter, whiter smile. Waterbury teeth whitening treatment is here for you!
Cosmetic Bonding
Cosmetic bonding is an affordable cosmetic dentistry solution for teeth that are broken, fractured, or oddly spaced. The application of a tooth-colored composite resin is prepared to repair a decayed, chipped or discolored tooth, to make teeth appear longer, and as a cosmetic alternative to amalgam fillings. Bonding can be done in a single visit, too.
And, if you need to brighten your dull, yellowed enamel, Waterbury Smiles provides teeth whitening services. If you want to fix several cosmetic dentistry issues all at once, then consider the benefits of porcelain veneers.
Porcelain Veneers
If you want to fix several cosmetic dentistry issues all at once, then consider the benefits of porcelain veneers. They are thin shells of medical-grade ceramic that are attached to the front surfaces of teeth for an immediate smile transformation. They are made from advanced material that closely resembles the appearance of natural dental enamel.
Speak With Us First
At Waterbury Smiles, our dentists are happy to discuss your smile goals and create a treatment plan that will give you the smile you deserve. We always begin our consultation with a detailed oral examination, and determine if you need general family dentistry or restorative dentistry before we begin your smile upgrade. If you want a grin that's gorgeous, then you'll find all the cosmetic dentistry services you need at Waterbury Smiles. Our friendly professionals will do everything they can to help you reach your smile's potential!
Waterbury Smiles provides quality general, cosmetic, and restorative dentistry services for Connecticut families. We serve the communities of Waterbury, Watertown, Middlebury, Naguatuck, Woodbury and Southbury. We invite you to make an appointment today!
Understanding the Cost of Cosmetic Dentistry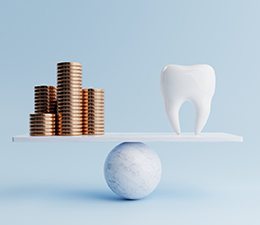 While you might be interested in upgrading your pearly whites with cosmetic dentistry, you'll want to know how much your treatment will cost before jumping on board. Since these procedures don't typically get coverage from dental insurance, you might wonder if you'll have to pay completely out-of-pocket. By visiting our team for an initial consultation, we can walk you through your treatment options, discuss their price points, and review your alternative financing solutions to make your procedure more manageable. Read on to learn more about the cost of cosmetic dentistry in Waterbury.
Which Cosmetic Dental Service Is Right for Me?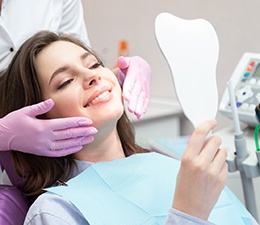 Whether you want to brighten your smile or transform the size and shape of your teeth, our team has a solution to help achieve your desired results. Here are the options we offer and what you can expect from each:
Teeth Whitening – For those who want to enhance the color of their teeth, professional teeth whitening can be the ideal solution. By wearing custom-made trays and using high-grade bleaching agents, you can effectively brighten your smile in just a couple of weeks. Not only is this cosmetic service cost-effective, but you can expect to enjoy showing off whiter teeth for several months to a few years with proper care.
Cosmetic Bonding – Our team can use composite resin to improve the size, shape, and color of your teeth. Cosmetic bonding can be performed to address most minor dental flaws—such as chips, cracks, stains, and gaps—and we can even complete it in a single visit. While the results can blend seamlessly with the rest of your smile, you'll only expect them to last around 3 to 10 years before needing touchups.
Veneers – This treatment may have the highest cost among our cosmetic options, but they offer the most comprehensive solution for upgrading your smile. Not only do they fix multiple dental imperfections simultaneously, but they can also deliver a virtually permanent whitening result. The procedure takes about two appointments to finish, and your results can last 15 years or more with minimal dental care.
Cosmetic Dentistry Can Be a Worthwhile Investment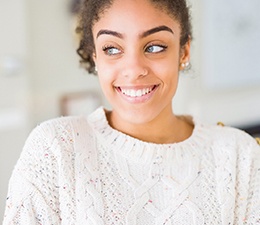 Although cosmetic dentistry may feel like a major commitment, your investment in your smile can end up paying itself off in the long run. Having dental flaws can impact your oral health as well as make you feel self-conscious about your appearance, which can take a toll on your overall quality of life. By making the necessary changes with cosmetic treatment, you can improve your pearly whites and boost your confidence. This can be beneficial in both your personal and professional life, as others will perceive you as more welcoming, attractive, and full of life!
How to Make Cosmetic Dentistry Affordable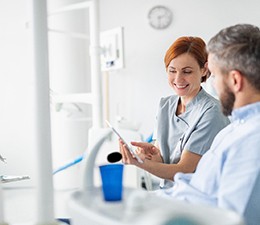 Cosmetic dentistry isn't usually covered by dental insurance due to it being considered an "elective" treatment. This doesn't mean you'll automatically have to empty your wallet to pay for your procedure. Instead, you can explore alternative financing options like CareCredit, which can help break up the overall price of your dental treatments into monthly, low-to-no-interest installments. This way you won't have to break the bank to enhance your beautiful smile.
Cosmetic Dentistry FAQs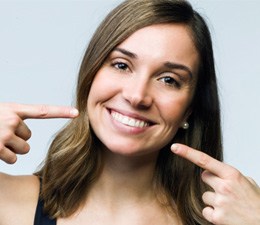 If you aren't completely confident in the appearance of your smile, you don't need to settle for it! There are a variety of cosmetic options available to help you achieve the pearly whites of your dreams. However, it pays to be well informed, so we're here to help! Here are the answers to some of the most common questions we receive about cosmetic dentistry in Waterbury. If you don't see the information that you're looking for below, give us a call . We'd be happy to address any questions or concerns you have and get you started with an initial consultation to learn more!
Is Cosmetic Dentistry Expensive?
Many people associate cosmetic dentistry with expensive treatments, but this doesn't always have to be the case. The pricy reputation of cosmetic dentistry is likely because dental insurance rarely covers treatment, so you typically need to pay out of pocket. Improving the appearance of your smile may seem expensive at first, but it's important to remember that you're investing in the future of your smile. This can impact your self-esteem, confidence, and quality of life!
How Do I Know If I Need Cosmetic Dentistry?
If you aren't completely confident in the smile you see in the mirror, you could likely benefit from cosmetic dentistry. Stained and discolored teeth can be corrected with professional teeth whitening. Chipped or cracked teeth can be protected and fixed with dental crowns or veneers. If you want to look more youthful, cosmetic dentistry can make a huge difference! Of course, the only way to know for sure if cosmetic dentistry is right for you is by scheduling a consultation with your dentist.
Does Cosmetic Dentistry Hurt?
Many people worry that their procedure will be painful. We do everything we can to ensure that your treatment experience is as comfortable as possible. Most cosmetic dental treatments are non-invasive. For instance, teeth whitening can be completed without needing a local anesthetic! For treatments like veneers, where your tooth needs to be reshaped, your mouth will be numbed ahead of time. You won't feel a thing! You may experience some sensitivity for a few days afterward, but this should be mild and temporary.
Why Is Cosmetic Dentistry So Popular?
For most of the history of dentistry, the focus was on preventing and treating dental problems. However, in the last few decades, modern techniques and technology have led to the average person having better dental health. With more people having healthy teeth, they can choose to focus on the appearance of their teeth rather than just fixing damage. These services have also become more affordable, allowing more people to pursue them.