Cosmetic Dentistry in Waterbury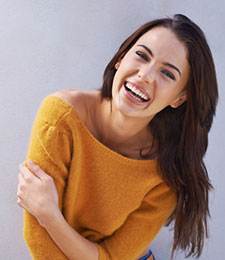 Everyone deserves a beautiful smile. A good looking smile can work wonders for your confidence. Think about the last time you saw someone with a drop-dead gorgeous smile – what was your first impression? Were you impressed? Did this person look confident? Never underestimate the power of a gorgeous smile. If yours is riddled with stains, breaks, chips, or gaps, then consult with our dentists about a smile makeover! Waterbury Smiles offers cosmetic dentistry options that can brighten, repair, and renew your smile. We can even combine cosmetic dentistry with restorative dentistry for a full-mouth reconstruction! Whichever service you choose, our Waterbury cosmetic dentist is ready to help! Dr. Marini provides cosmetic dentistry services that will leave your mouth feeling healthy and happy.
Teeth Whitening
Your smile may appear dingy, yellow, or stained for a number of reasons. What you eat and drink, your age, your genetics, and the state of your oral health can all contribute to dull-looking and discolored enamel. Patients find themselves hiding their smiles instead of showing them off. At Waterbury Smiles, we can brighten your smile with our teeth whitening services. We use a take-home professional teeth whitening kit.
If you opt for home-whitening treatment, we can create a customized teeth whitening kit for you. We make molds that comfortably fit your mouth and give you a high grade of bleaching gel. You will use the kit every night and in two weeks or less, you'll have a brighter, whiter smile. Waterbury teeth whitening treatment is here for you!
Cosmetic Bonding
Cosmetic bonding is an affordable cosmetic dentistry solution for teeth that are broken, fractured, or oddly spaced. The application of a tooth-colored composite resin is prepared to repair a decayed, chipped or discolored tooth, to make teeth appear longer, and as a cosmetic alternative to amalgam fillings. Bonding can be done in a single visit, too.
And, if you need to brighten your dull, yellowed enamel, Waterbury Smiles provides teeth whitening services. If you want to fix several cosmetic dentistry issues all at once, then consider the benefits of porcelain veneers.
Porcelain Veneers
If you want to fix several cosmetic dentistry issues all at once, then consider the benefits of porcelain veneers. They are thin shells of medical-grade ceramic that are attached to the front surfaces of teeth for an immediate smile transformation. They are made from advanced material that closely resembles the appearance of natural dental enamel.
Speak With Us First
At Waterbury Smiles, our dentists are happy to discuss your smile goals and create a treatment plan that will give you the smile you deserve. We always begin our consultation with a detailed oral examination, and determine if you need general family dentistry or restorative dentistry before we begin your smile upgrade. If you want a grin that's gorgeous, then you'll find all the cosmetic dentistry services you need at Waterbury Smiles. Our friendly professionals will do everything they can to help you reach your smile's potential!
Waterbury Smiles provides quality general, cosmetic, and restorative dentistry services for Connecticut families. We serve the communities of Waterbury, Watertown, Middlebury, Naguatuck, Woodbury and Southbury. We invite you to make an appointment today!