Comprehensive Dentistry for Families in Waterbury, CT and Beyond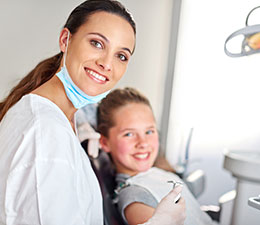 Do you uphold a regular routine of brushing and flossing? Do you think your mouth is healthy and in great condition? We hope you answered "yes" to both questions. Although most people thoroughly clean their mouth, teeth, and gums every day, hard-to-reach areas can experience a host of issues, including bacterial buildup, tartar, etc. Scheduling a checkup with a dentist twice a year can prevent oral problems and ensure optimal oral health. Waterbury Smiles provides a list of comprehensive services to treat your teeth, regardless of the type of treatment needed. Whether you need general, cosmetic, or restorative dental procedures, our attentive, expert staff can give you the care you need.
Expert Services for any Dental Situation
Dr. Marini and Dr. Mancini have put together a dental practice that is unmatched by other offices. With years of experience in general, cosmetic, and restorative dentistry, the doctors and their hand-picked team of caring practitioners can provide a wide-range of services for any patient seeking professional, effective dental treatment. When you arrive at our office, you will be treated to the best service possible, and with our advanced dental technology, you can take solace knowing you will walk out of our office with a bright, vibrant smile.
Amazing General Dentistry
We want to ensure that every patient has optimal oral health and hygiene. Our general dentistry is the perfect choice for anyone seeking a regular checkup and cleaning. We will take X-rays of your mouth, perform an oral cancer screening, and provide a thorough cleaning of your teeth and gums. We will also check for potential oral problems, and if we spot anything, such as TMJ disorder or periodontal disease, we will tell you about the next steps that must be taken and educate you on further preventative treatments. Our doctors and staff value the well-being of your health, and we will take care of your oral hygiene.
Phenomenal Cosmetic Dentistry
If you are seeking a beautiful, luminous smile, then our cosmetic dentistry is a brilliant option. We offer in-office and take-home teeth whitening treatments for those wanting to see their smiles take on brighter shades of white. If the situation is a bit more serious (chipped, uneven, discolored teeth), then we can provide porcelain veneers to restore your mouth to a perfect smile. Veneers are thin pieces of porcelain that are fitted to the teeth, giving them strength, proper shape/size, and a white sheen. No matter the case, we can give your smile the shine it needs.
Restorative Dentistry for Serious Situations
Sometimes, decay, injury, or trauma can leave a tooth broken, or even make you lose a tooth. Our restorative dentistry can fix your tooth imperfections. Dental implants are available to permanently replace a missing tooth, while crowns can fix broken, chipped, or fractured teeth. Bridges and partial dentures are also available to replace several missing teeth. You deserve a complete smile, and we can guarantee that we will be able to give you a smile you are proud to show to friends and family.
Utilize our Services for a Better Smile
Waterbury Smiles can give you the smile you deserve. Our collective services paired with our masterful skills and state-of-the-art equipment can ensure that every patient can get the care they need. If you are ready to experience the best dental treatment available, contact us today. Our friendly staff happily serves the families of Waterbury, CT, Watertown, Middlebury, Naguatuck, Woodbury, Southbury, and the neighboring communities.
Waterbury Smiles provides quality general,cosmetic, and restorative dentistry services for Connecticut families. We serve the communities of Waterbury, Watertown, Middlebury, Naguatuck, Woodbury and Southbury. We invite you to make an appointment today!