Root Canal Therapy in Waterbury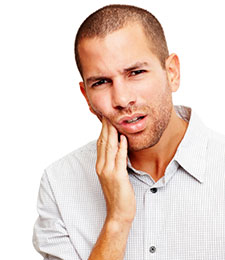 At Waterbury Smiles, we know that a constant or severe toothache or extreme hot or cold sensitivity can be an indication of root canal infection. If you're in pain, contact us immediately for an appointment. If the pain prevents you from eating, drinking, or has made you ill, ask us about an emergency appointment.
A patient suffering from root canal infection may experience:
Severe pain when chewing
Extreme sensitivity to temperatures
Swelling, redness of the gingiva (gums)
Tooth Discoloration
If you suspect you may have a root canal infection we recommend scheduling an appointment with our knowledgeable staff as quickly as you can. Infection in the root of your tooth can easily spread to the gums and into your blood stream causing serious health concerns.
Toothache Relief, Waterbury Smiles
A root canal infection usually occurs in teeth already chipped, cracked, fractured or weakened by cavities or gum disease. Bacteria infiltrate the interior of the tooth and infect the nerve and pulp. Since the purpose of the tooth's nerve is only to feel pain—and determine hot or cold temperatures—you begin to experience continual pain and extreme sensitivity to temperatures. Left untreated, root canal infection can "kill" the tooth. Essentially this means that the tooth will no longer be able to absorb nutrients to remain healthy, but it also means the pain subsides. Some patients mistakenly believe this means their tooth is better. However, left untreated the infection can spread to other teeth or into your blood stream. If you even suspect a toothache may be indicative of root canal infection, contact Waterbury Smiles today.
At our Waterbury dental practice, we want to alleviate your toothache discomfort with root canal therapy. One of our caring dental team will ensure that you're completely relaxed for your treatment. Your comfort is our priority, and we will do all that we can to ensure you feel at ease during your appointment.
Root Canal Therapy, Waterbury
When you visit our office for root canal treatment, we will thoroughly examine your tooth and the surrounding teeth and gums to determine the extent of the infection. For patients with severe infection, we have to remove infected tissue and administer a course of antibiotics before completing root canal treatment.
A root canal consists of four parts. First a tiny opening is made in the tooth through which the infected pulp and nerves can be removed. Then, the infected tissues are extracted and the tooth is cleaned and filed smooth. The hollow is then filled with gutta percha, a biocompatible dental filling. Finally, your tooth is resealed, shaped, and restored to a natural look and feel.
Waterbury Smiles always wants to make sure you have the best smile possible. That's why we often recommend the addition of a porcelain crown to protect and strengthen your treated tooth. Crowns help protect your tooth from further damage and diminish the possibility of reinfection.
Contact Us
Waterbury Smiles provides quality general, cosmetic, and restorative dentistry services for Connecticut families. We serve the communities of Waterbury, Watertown, Middlebury, Naguatuck, Woodbury and Southbury. We invite you to make an appointment today!