Root Canal Therapy in Waterbury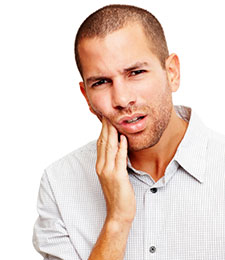 At Waterbury Smiles, we know that a constant or severe toothache or extreme hot or cold sensitivity can be an indication of root canal infection. If you're in pain, contact us immediately for an appointment. If the pain prevents you from eating, drinking, or has made you ill, ask us about an emergency appointment.
A patient suffering from root canal infection may experience:
Severe pain when chewing
Extreme sensitivity to temperatures
Swelling, redness of the gingiva (gums)
Tooth Discoloration
If you suspect you may have a root canal infection we recommend scheduling an appointment with our knowledgeable staff as quickly as you can. Infection in the root of your tooth can easily spread to the gums and into your blood stream causing serious health concerns.
Toothache Relief, Waterbury Smiles
A root canal infection usually occurs in teeth already chipped, cracked, fractured or weakened by cavities or gum disease. Bacteria infiltrate the interior of the tooth and infect the nerve and pulp. Since the purpose of the tooth's nerve is only to feel pain—and determine hot or cold temperatures—you begin to experience continual pain and extreme sensitivity to temperatures. Left untreated, root canal infection can "kill" the tooth. Essentially this means that the tooth will no longer be able to absorb nutrients to remain healthy, but it also means the pain subsides. Some patients mistakenly believe this means their tooth is better. However, left untreated the infection can spread to other teeth or into your blood stream. If you even suspect a toothache may be indicative of root canal infection, contact Waterbury Smiles today.
At our Waterbury dental practice, we want to alleviate your toothache discomfort with root canal therapy. One of our caring dental team will ensure that you're completely relaxed for your treatment. Your comfort is our priority, and we will do all that we can to ensure you feel at ease during your appointment.
Root Canal Therapy, Waterbury
When you visit our office for root canal treatment, we will thoroughly examine your tooth and the surrounding teeth and gums to determine the extent of the infection. For patients with severe infection, we have to remove infected tissue and administer a course of antibiotics before completing root canal treatment.
A root canal consists of four parts. First a tiny opening is made in the tooth through which the infected pulp and nerves can be removed. Then, the infected tissues are extracted and the tooth is cleaned and filed smooth. The hollow is then filled with gutta percha, a biocompatible dental filling. Finally, your tooth is resealed, shaped, and restored to a natural look and feel.
Waterbury Smiles always wants to make sure you have the best smile possible. That's why we often recommend the addition of a porcelain crown to protect and strengthen your treated tooth. Crowns help protect your tooth from further damage and diminish the possibility of reinfection.
Contact Us
Waterbury Smiles provides quality general, cosmetic, and restorative dentistry services for Connecticut families. We serve the communities of Waterbury, Watertown, Middlebury, Naguatuck, Woodbury and Southbury. We invite you to make an appointment today!
Root Canal FAQs
Are you preparing for a root canal in Waterbury? If you're like most patients, you probably have a lot of questions about the process and what you can expect after the procedure is complete. Below you will find a list of FAQs about root canals that will give you greater insight into how root canals work and why they're considered a safe and effective solution to saving natural teeth. If you have any additional questions or would like to schedule an appointment with Dr. Marini, please do not hesitate to contact our office.
Why can't the tooth just be extracted?
It's not uncommon for patients to ask why their problem tooth cannot just be extracted. Wouldn't that be easier? It depends. The reality is that it is always best to keep your natural teeth as long as possible. Even if they are damaged, if there is a solution that will help fix the problem and strengthen the tooth, it's always better to avoid extraction and tooth replacement. The reason is that your regular teeth are far stronger and better for your oral health. While the removal of the tooth might appear easier, it can lead to timely and costly treatment down the road.
Is a root canal painful?
If you know someone who has undergone a root canal claiming it caused immense pain, it's highly likely that the pain they are referring to is actually caused by the infection, not the procedure. A root canal is designed to eliminate the infection inside the tooth as well as the pain it is causing. Before the start of your procedure, you will receive local anesthesia to help you feel no discomfort during the procedure. You will feel completely relaxed, so you do not have to worry about experiencing any pain while Dr. Marini completes the process. Afterward, you can expect some soreness and tenderness; however, he and his team will provide you with the necessary instructions to follow at home to minimize discomfort.
How successful are root canals?
You will be pleased to learn that root canals are considered to be extremely safe and successful. On average, the procedure has a success rate of 95% and higher. It is possible that by allowing your dentist in Waterbury to perform a root canal, you can enjoy your natural teeth for a lifetime (with proper maintenance).
What can I expect after a root canal?
When you return home after having a root canal, you can expect your tooth will feel more sensitive than before. This is common and will decrease over time; however, the inflammation of your tissue will be at its highest after the procedure, so you will need to take an over-the-counter pain reliever (i.e. Advil, Motrin, Aleve) to alleviate discomfort.
Since you will need to wait until your permanent dental crown is complete, it is advised that you avoid chewing on the side of your mouth with the temporary restoration. This will ensure your weakened tooth remains safeguarded against bacteria and food particles.
You will need to continue your regular oral hygiene routine by brushing and flossing, just be mindful of your surgical area and be gentle when caring for your smile.