Meet the Dentists
Dr. Marini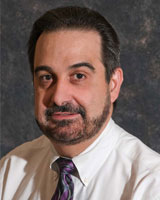 Dr. Marini is dedicated to earning your trust as your dentist. He believes in spending time with patients, listening to your goals and concerns, so that he understands what you want and gives you the attention you deserve from your dentist. He refrains from the use of fast-talking advertising or "gimmickry," preferring instead that the actions of himself and his practice demonstrate his commitment to patient care. It is his privilege to treat your dental needs.
Born and raised in Waterbury, Connecticut, Dr. Luciano Marini learned the value of hard work and quality at an early age. As a first generation American, Dr. Marini's family emigrated from Italy and settled in Waterbury. He attended local schools and received his bachelors degree from the University of Connecticut in 1981. Dr. Marini subsequently attained his dental degree at the University of Connecticut School of Dental Medicine. Upon the completion of his residency training at Waterbury Hospital Health Center in 1986, he opened his general dental practice, providing all phases of dental care — from cosmetic dentistry to preventative dental care.
In 1994, Dr. Marini relocated his practice to its current location in order to accommodate the growth of the practice and to provide dental care in a more modern facility. Dr. Marini has dedicated numerous hours to both patient care and postgraduate continuing education in all phases of dentistry in his efforts to achieve a level of quality unmatched by other dental practices and to strive toward attaining 100% patient satisfaction. He is a member of numerous national and local dental organizations, including the American Dental Association, the Connecticut Dental Association and the Waterbury Dental Society.
Dr. Mancini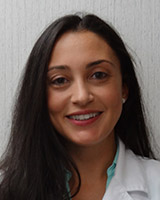 Dr. Mancini has recently joined our practice. As a lifelong resident of Watertown, Dr. Mancini attended local schools and received her doctorate degree from Tufts University School of Dental Medicine. She is committed to providing comprehensive dentistry for all ages providing the highest standard of dental care and utilizing the latest techniques and materials. She is a member of the American Dental Association, the Connecticut State Dental Association and the Waterbury Dental Society. In her spare time she enjoys spending time with her husband, Justin, and her friends.
Waterbury Smiles provides quality general,cosmetic, and restorative dentistry services for Connecticut families. We serve the communities of Waterbury, Watertown, Middlebury, Naguatuck, Woodbury and Southbury. We invite you to make an appointment today!