General & Family Dentistry in Waterbury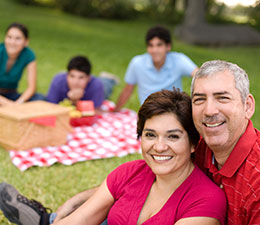 At Waterbury Smiles, we offer a wide array of general dentistry options for all Connecticut families. You can count on our compassionate professionals to create a positive, comfortable and professional experience. We not only offer general family dentistry to take care of your long-term oral health needs, we also provide cosmetic and restorative dentistry services to keep your teeth and gums looking and feeling gorgeous.
Our restorative dentistry services include:
Crowns (porcelain)
Fillings
Full-mouth reconstruction (gum disease, infected teeth, darkened enamel)
Root canal therapy
Tooth replacement
Dental implants
Wisdom teeth removal
All of these therapy options have one goal in mind: improve your oral health and beautify your smile. All services are performed with your comfort and care in mind, not to mention a relaxing atmosphere that radiates professionalism.
Our general family dentistry professionals value the wellbeing of you and your family. It's vital that you keep a consistent oral hygiene routine: brushing twice, flossing once, and always rinsing with fluoridated products. We offer special cavity protections for your children, too: dental sealants for back molars and fluoride supplements for all teeth. Your family's oral health is at the top of our list and you deserve the utmost care. We want your family to grow with us and enjoy first-rate treatment for years to come.
We take care of all your dental health needs at your general family dentistry appointment, including issues with your temporomandibular joints (TMJ disorders), bruxism (teeth grinding), and snoring (sleep apnea). At Waterbury Smiles, we can restore your oral health with professional cleanings, non-surgical periodontal therapy, and root canal therapy.
Periodontal therapy can attack gum disease that manifests in a multitude of ways:
Bleeding during or after brushing
Swelling
Redness
Receding from teeth
Incorrect bite
Loosening dentures

Our full charting and diagnostic periodontal therapy services tackle gum disease. We can give you effective, comfortable treatments
Root canal infections are an entirely different animal. Patients whom suffer from one or more root canal infections experience:
Severe pain when chewing
Extreme sensitivity to temperatures
Swelling, redness of the gingiva
Discoloration of the tooth
Therapy involves removing the nerve and pulp, then cleaning the tooth and filing it to a smooth finish. The hollow is then filled with gutta percha, a biocompatible dental filling.
If you're looking to improve the look of your smile, we offer cosmetic dentistry options as well. These include:
Teeth whitening (take-home kit)
Porcelain veneers
Cosmetic bonding
Our cosmetic dentistry services brighten, repair and renew your smile. Our dentists will discuss your smile goals and create a treatment plan that will give you the smile you deserve.
Got questions? We've got answers! The answers to some of our most asked questions are located on our FAQ page. No question is off limits – everything from what to expect when you arrive to how to cancel an appointment can be found. If there is a question you have that isn't asked on the page, call our office located in Waterbury, CT.
Waterbury Smiles provides quality general, cosmetic, and restorative dentistry services for Connecticut families. We serve the communities of Waterbury, Watertown, Middlebury, Naguatuck, Woodbury and Southbury. We invite you to make an appointment today!