Dentures and Partials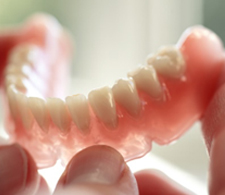 Although your teeth are designed to last for a lifetime, for 120 million adults in the United States, that is not the case. Disease, trauma, decay, and other factors can cause tooth loss to occur. With each tooth having an important role in your oral health, functions, and quality of life, you need an effective option to replace your missing teeth. Many turn to dentures in Waterbury to regain a complete smile. At Waterbury Smiles, we offer the solutions you need to regain a complete smile.
Stop Living with Tooth Loss
When you lose a tooth, your confidence quickly decreases while your quality of life changes. You can develop difficulty eating many foods. Over time, this can lead to nutritional deficiencies. Not to mention, you may no longer speak clearly due to the open space.
Your oral health will also become compromised as your remaining natural teeth lose the support, shifting toward the open space. This can cause alignment issues while you develop an increased risk for tooth decay and gum disease as oral hygiene becomes more difficult.
Dentures and partials stop these complications using a convenient and effective solution.
Replace One or More Missing Teeth
Partials are custom-made prosthetic teeth that fill the space of one or more missing teeth. They are attached to a gum-colored base, which features a metal framework to allow it to be held in place using the adjacent natural teeth.
Replace an Entire Arch
When all the teeth are missing on one arch, a complete denture is needed. Using impressions of the mouth, prosthetic teeth are held in a gum-colored arch. It is then held to the gum tissue using a denture adhesive.
Implant Retained Dentures
Now, you can benefit from a more permanent solution with implant retained dentures. The prosthetic teeth are anchored in place using dental implant posts that are surgically placed into the jaw bone. When compared to other solutions, they look more natural while also holding the potential to last for a lifetime.
Choose a Convenient Solution
Although dentures have received a bad reputation for looking and feeling fake, new advancements make them look and function more natural than ever before. Impressions of the mouth ensure a comfortable and snug fit so you do not have to worry about any slipping or irritation. You can chew and speak with confidence knowing you have a complete smile that looks real while also staying securely in place.
It will take some time getting used to your replacement teeth, but through continuous use, you will be adjusted quickly. To protect your new smile from damage, it is important to care for them properly with proper cleaning and soaking them each night with a denture solution. Maintain your dental appointments every six months to protect their longevity.
Get a Complete Smile Today
If you are ready to stop living with the challenges of tooth loss, it is time to see if dentures are right for you with your trusted dentist in Waterbury. Contact Waterbury Smiles today to schedule your consultation.