Dentures and Partials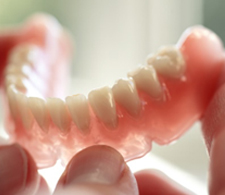 Although your teeth are designed to last for a lifetime, for 120 million adults in the United States, that is not the case. Disease, trauma, decay, and other factors can cause tooth loss to occur. With each tooth having an important role in your oral health, functions, and quality of life, you need an effective option to replace your missing teeth. Many turn to dentures in Waterbury to regain a complete smile. At Waterbury Smiles, we offer the solutions you need to regain a complete smile.
Stop Living with Tooth Loss
When you lose a tooth, your confidence quickly decreases while your quality of life changes. You can develop difficulty eating many foods. Over time, this can lead to nutritional deficiencies. Not to mention, you may no longer speak clearly due to the open space.
Your oral health will also become compromised as your remaining natural teeth lose the support, shifting toward the open space. This can cause alignment issues while you develop an increased risk for tooth decay and gum disease as oral hygiene becomes more difficult.
Dentures and partials stop these complications using a convenient and effective solution.
Replace One or More Missing Teeth
Partials are custom-made prosthetic teeth that fill the space of one or more missing teeth. They are attached to a gum-colored base, which features a metal framework to allow it to be held in place using the adjacent natural teeth.
Replace an Entire Arch
When all the teeth are missing on one arch, a complete denture is needed. Using impressions of the mouth, prosthetic teeth are held in a gum-colored arch. It is then held to the gum tissue using a denture adhesive.
Implant Retained Dentures
Now, you can benefit from a more permanent solution with implant retained dentures. The prosthetic teeth are anchored in place using dental implant posts that are surgically placed into the jaw bone. When compared to other solutions, they look more natural while also holding the potential to last for a lifetime.
Choose a Convenient Solution
Although dentures have received a bad reputation for looking and feeling fake, new advancements make them look and function more natural than ever before. Impressions of the mouth ensure a comfortable and snug fit so you do not have to worry about any slipping or irritation. You can chew and speak with confidence knowing you have a complete smile that looks real while also staying securely in place.
It will take some time getting used to your replacement teeth, but through continuous use, you will be adjusted quickly. To protect your new smile from damage, it is important to care for them properly with proper cleaning and soaking them each night with a denture solution. Maintain your dental appointments every six months to protect their longevity.
Get a Complete Smile Today
If you are ready to stop living with the challenges of tooth loss, it is time to see if dentures are right for you with your trusted dentist in Waterbury. Contact Waterbury Smiles today to schedule your consultation.
Dentures and Partials FAQs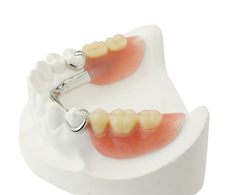 Partials and dentures in Waterbury are the most traditional solution to treat severe tooth loss because they are convenient and effective; however, it's normal to still have a few questions about them. Don't worry, we'll take the time to explain the process and address any concerns during your initial consultation. While you wait for your visit, here are the answers to a few of the most common questions we hear to help ease any apprehensions you might have about rebuilding your smile.
What is a partial denture?
A partial is used to treat significant tooth loss throughout an arch. Custom-made prosthetic teeth are set in a gum-colored base that has a metal framework. This allows it to clip onto your remaining natural teeth to hold it in place.
What is a full denture?
A full denture is used to replace an entire arch using an acrylic gum-colored base and custom-made prosthetic teeth. It's held in place using suction or an adhesive to bite, chew, and smile confidently.
Can I eat normally with a denture?
Advancements in dentistry allow dentures to look and feel like your real teeth more than ever before. You'll be able to enjoy many of your favorite foods again. While you will regain your ability to maintain a balanced diet, dentures will always have their limitations. You'll want to avoid certain foods, like those that are sticky. It's also best not to chew gum. If you'd like a stronger biting force, ask us how dental implants can stabilize your denture. You can regain as much as 70% of your natural biting force with an implant-retained denture.
How much do partials and dentures cost?
There isn't a set fee for dentures or partials because the amount of your treatment is determined by your individual needs. There are several factors influencing the cost, such as the number of teeth you're missing and your dental coverage. We will work on your behalf with your insurance company to file the necessary claims to maximize your policy. We'll help reduce the amount you need to pay out-of-pocket. We accept several forms of payment for any remaining balance, like CareCredit. Our office will help you find the solutions you need to replace your missing teeth without draining your wallet.
Why do my dentures keep slipping?
You might notice your dentures don't fit as well as before. It could be time to change your adhesive. If that doesn't solve the problem, you might need to have your dentures relined. After you lose your natural teeth, your gum and jawbone will shrink, causing your denture to not fit correctly over time. Regular appointments with your dentist for maintenance can help ensure it has a snug fit. If you still don't get the results you want, you can permanently eliminate slipping and irritation by using dental implants to support your denture. You can chew, speak, and smile knowing your denture will stay securely in place.