Teeth Whitening at Waterbury Smiles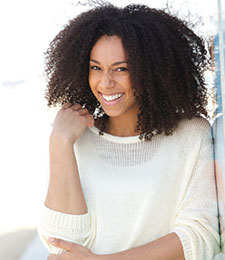 Do you have confidence in your smile? When you meet someone new, do you share your smile freely or are you more hesitant? If you hesitate, then you are in good company. Many people are reluctant to smile for the simple reason that their smiles are no longer white and bright, but dull and off-color.
Your Waterbury cosmetic dentist has the solution: teeth whitening. One of the most common, least expensive and cost effective cosmetic treatments our practice offers is teeth whitening. For our patients' convenience, Waterbury Smiles has both an in-office and take-home whitening system.
First, let's examine why teeth darken over time, because our baby teeth sure do start out white, shiny and adorable! The culprit, as with many bodily concerns, is time itself. As we age, time and other factors take their toll on not only the condition of our teeth, but the color of our teeth, as well. Those other factors include:
Foods and beverages. Some of the most frequently consumed ingredients in our diets cause staining: carrots, tomatoes, chocolate, soy sauce, cola and tea, to name just a few.
Tobacco products. Smoking and chewing tobacco both contain nicotine, which is a discoloring agent.
Cracks in our teeth. If a tooth has a crack, then food debris can become trapped and result in staining.
There are some drugs and cancer treatments that can cause teeth to discolor. Even the overuse of fluoride can lead to fluorosis, which leaves white marks on teeth.
Teeth grinding and clenching. This typically nighttime habit can lead to tiny cracks in the chewing surfaces of teeth, which will appear to darken with time.
Natural color. The starting color of our teeth tends to lean slightly toward yellow or gray, and this may intensify as we age.
Teeth Whitening 06708 Residents Rely on for Winning Smiles
For patients who would rather whiten their teeth in the convenience and privacy of home, we can provide a take-home whitening kit. We'll give you customized mouth trays and a supply of high-grade bleaching gel. Simply fill the trays with gel and wear them for the amount of time we specify every night for about two weeks. You'll gradually begin to see you smile whiten.
Waterbury Smiles provides quality general, cosmetic, and restorative dentistry services for Connecticut families. We serve the communities of Waterbury, Watertown, Middlebury, Naguatuck, Woodbury and Southbury. We invite you to make an appointment today!
Teeth Whitening FAQs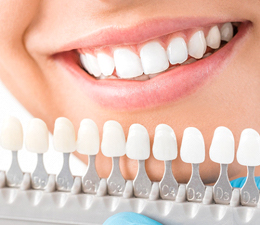 Although you can't avoid tooth discoloration and stains, you don't need to live with the results. In fact, you can turn back the hands of time and restore your smile back to its previous glory with teeth whitening in Waterbury. While you're excited to revamp your smile, it's normal to have several questions about the procedure before you're ready to commit to it. We'll take the time to address any concerns during your initial consultation. In the meantime, here are the answers to a few of the most common questions we hear to help you make the wise choice for your smile.
Are teeth whitening treatments safe?
Teeth whitening treatments are safe and effective when used according to the manufacturer's guidelines and when performed under the care or supervision of a cosmetic dentist. You won't need to worry about any damage to your enamel when the proper standards are followed.
Do whitening treatments cause tooth sensitivity?
You've probably heard a few people mention tooth sensitivity after their whitening treatment, but don't let rumors stop you from brightening your smile. Although this used to be a common side effect in the past, modern whitening agents are specially formulated to minimize tooth sensitivity. Some patients might still experience slight discomfort, but it will subside within a day or two. It's best to avoid exposing your teeth to extreme or sudden temperature changes until your discomfort stops.
How long will my results last?
Your new smile can stay bright for several years with the right aftercare. You can help ensure your teeth stay white by keeping a few smile tips in mind:
Brush your teeth at least twice a day using a soft-bristled toothbrush.
Brush all surfaces of your teeth for at least 2 minutes each session.
Floss every night before going to bed.
Don't smoke or use tobacco.
Consume stain-causing foods and drinks in moderation, like coffee, tea, or berries.
Visit your dentist at least twice a year for a cleaning and checkup.
How much does professional teeth whitening cost?
Unfortunately, there isn't a set fee for teeth whitening because the cost is determined by your specific plan, such as if you need an in-office or at-home treatment. We'll provide you with a custom estimate during your initial consultation and discuss the fees associated with the cost. A member of our team at Waterbury Smiles will take the time to explain your payment options, like using traditional methods or third-party financing with CareCredit.
Can I use my dental insurance?
Teeth whitening treatments are considered elective. As a result, most dental insurance carriers don't cover the cost; however, every policy differs. We will work on your behalf with your insurance company to file the necessary claims and forms for reimbursement. If applicable, we will help you use your coverage to lower the amount you need to pay out-of-pocket.
How can I get started?
If you're ready to take your first step toward improved confidence, it's time to schedule a consultation with your dentist in Waterbury. Contact our office today to plan your visit.