Porcelain Veneers in Waterbury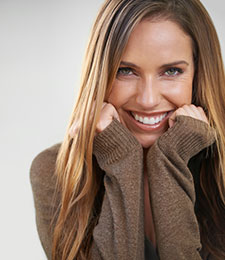 Take your smile from average to dazzling. "Makeover" your smile with porcelain veneers from Waterbury Smiles. Many patients desire a brighter, cleaner, more attractive smile, but have chipped, stained, discolored, unevenly spaced, or even slightly crooked front teeth. If this sounds like you, we will be glad to help evaluate your specific situation, listen to the exact changes you have in mind, and show you examples of the end result, before any treatment is performed. If you're interested in finding out more about porcelain veneers, contact your cosmetic dentist, Waterbury Smiles for a consultation today.
Waterbury Dental Veneers
A veneer is what its name may suggest, a facing or façade. Hand crafted from porcelain to perfect any smile irregularity, veneers are often the easiest way to fully transform your smile without extensive, invasive dental procedures. Instead, a porcelain sheath is crafted to cover any stained, crooked or cracked teeth. Your natural smile is prepared with minor size reduction or shaping to your existing bite, and the customized veneer is bonded to your bite with a compound resin. With proper maintenance, veneers can be a permanent smile enhancing solution that requires less time, money, and pain than other procedures.
The actual treatment usually takes just two visits. The consultation appointment where you work with our team to create your flawless smiles, and a second appointment to place your veneers. The number of pre-operative visits to work out details and ensure predictable results, depends on the complexity of your situation and the changes you desire. After your veneer is placed, there is typically a follow up visit for final adjustments and polishing after you have an opportunity to get used to how your veneers look and feel, and to review instructions for care of your new smile that will last for years and years. It is usually preferable to schedule this follow up as part of your next routine dental checkup.
Benefits of Veneers
Many patients who need to have their smile corrected prefer veneers to other cosmetic or restorative options for various reasons. Some of the main reasons to choose veneers are:
Minimally invasive – good for patients with sensitive teeth or gums, weekend immune systems
Optimum change in minimum time – porcelain veneers can completely transform your smile with very little time in the chair or healing at home as compared with other available treatments
Whiter, brighter teeth – veneers deliver a dazzling smile that is stain resistant so teeth whitening is no longer a concern
Protective Barrier – for patients who suffer from severe tooth decay, veneers protect teeth from bacteria and significantly reduce the risk of future decay
Choose your own smile – veneers allow patients the opportunity to have the smile they've dreamed of instead of the one they're stuck with, and we can even match your favorite celebrity's smile
Contact Us
Waterbury Smiles provides quality general, cosmetic, and restorative dentistry services for Connecticut families. We serve the communities of Waterbury, Watertown, Middlebury, Naguatuck, Woodbury and Southbury. We invite you to make an appointment today!