Periodontal Therapy in Waterbury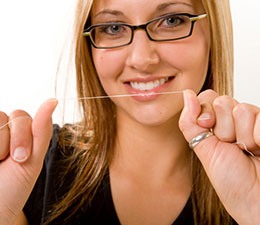 At Waterbury Smiles, we know that taking excellent care of your gums is imperative! Gum disease can detrimentally affect your oral health—and affect your overall health, too. Yes, the same oral bacterium that causes gum disease and tooth decay can enter your bloodstream and contribute to heart disease and strokes. If you think you have gum disease, then periodontal therapy can fully restore your oral health.
Gum disease manifests in a myriad of ways, including:
Bleeding during or after brushing
Swelling
Redness
Receding from teeth
Incorrect bite
Loosening dentures
More than 75% of American adults have some form of gum disease, a chronic infection; gingivitis is the beginning stage of gum disease and periodontitis is the more advanced stage. If periodontitis is not treated, then ultimately it can be the reason why people lose teeth. Actually, it's the number one reason for tooth loss in the United States! So, if you need periodontal treatment, Waterbury Smiles has an experienced dental team ready to restore your gum health.
Periodontal Therapy Waterbury Trusts
In order to stop the further destruction of gums, teeth and supporting bone tissue that gum disease can cause, we must remove the bacteria. Of course, there is both good and bad bacteria in our mouths. Bad bacteria tends to accumulate in plaque, which is a natural biofilm that develops in the mouth day in and day out. With proper brushing and flossing, this plaque is cleared away daily. However, if a patient's oral hygiene practice is less than optimal, this plaque sits on the surface of your teeth, in between your teeth and below the gum line. Consequently, the bacteria in plaque are left in place and gum disease occurs.
If caught early enough, gum disease can be reversed with regular at-home oral hygiene. However, if this is not possible, then Waterbury Smiles offers non-surgical periodontal therapy. Primarily this treatment involves scaling and root planing. When your teeth are scaled, we thoroughly remove all evidence of plaque, as well as any hardened plaque, which is known as tartar or calculus. Then, during planing the roots of your teeth are smoothed. With a smoother surface, plaque is less able to cling to the surface and cause damage.
In some cases, we may need to apply a topical antibiotic treatment to treat the infection. With periodontitis, gum pockets may develop as tissue pulls away from teeth. A strong antibiotic with long-lasting effects is applied to the pockets in order to eliminate the infection and promote healing.
At Waterbury Smiles, we offer full charting and diagnostic services for gum disease. And with our non-surgical periodontal therapy, we can give you effective, comfortable treatments. We may also recommend other restorative dentistry options to keep your smile as healthy as possible.
Waterbury Smiles provides quality general, cosmetic, and restorative dentistry services for Connecticut families. We serve the communities of Waterbury, Watertown, Middlebury, Naguatuck, Woodbury and Southbury. We invite you to make an appointment today!