Restore Your Smile with Dental Implants in Waterbury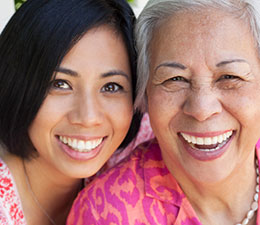 Are you embarrassed by your missing teeth? Or are you dissatisfied with your current dental prostheses? You can have the smile you deserve – with dental implants. Nobody deserves to walk around with anything less than a beautiful smile, and our dental implant treatment can give you the smile you deserve. Missing teeth can be a drag and can leave a last effect on your confidence. Dental implants in 06708 can change the look of your smile.
At Waterbury Smiles, we're happy to discuss your smile goals with you. If dental implants are the right choice, our team will work with you to get you the results you pine for. Dental implants can replace single teeth, or anchor a tooth replacement device, such as a crown and bridge or even a full set of dentures! It's fast becoming one of the most popular dentistry choices and it's easy to see why: dental implants blend in seamlessly with your other teeth for a beautiful look. Waterbury implant dentist Dr. Marini is here to help!
Dental Implants – What Are They?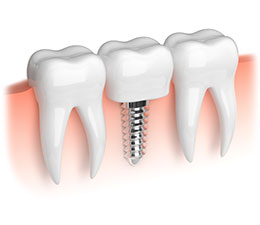 Dental implants are often confused with other restorative dentistry services. Dental implants are artificial tooth roots used to support a restoration for a missing tooth or teeth, helping to stop or prevent jaw bone loss. By replacing missing tooth roots, dental implants are provide patients with the strength and stability required to eat the foods you love without struggling to chew. Your jaw bone is very happy when you get a dental implant, too – the bone is stimulated and maintained while preventing further bone loss and helps maintain facial features.
Teeth are lost for several reasons including:
Tooth decay
Root canal failure
Large cavities
Dental injuries
Gum disease (Periodontitis)
Trauma to the mouth (tooth injury)
Excessive wear and tear
Congenital defects
Learn More About How Dental Implants Work
What Are the Benefits of Dental Implants?
There are many benefits to receiving dental implants. Some are obvious, others not so much. Either way, you can rest assured that your mouth looks and feels as healthy as it possibly can. Dental implant benefits include:
The titanium posts are biocompatible, so your jawbone will fuse around them as though they were real tooth roots. This prevents bone loss and keeps your facial structure intact.
Since most dental implants are capped with porcelain crowns, they reflect the light in the same way as your natural teeth. No one will be able to discern the difference.
Dental implants are strong and durable. You can rely on them to function just like real teeth. So, you can eat whatever you want, when you want!
Dental implants have a more than 96% success rate. They become a permanent part of your dentition, and can last a lifetime with proper care.
Because dental implants are such a natural-looking part of your smile, you'll have a more attractive appearance and more confidence.
Obtaining a gorgeous grin isn't an impossibility. At Waterbury Smiles, we can use dental implants to replace missing teeth and give you a brand new smile. To learn more about this and other services we offer, speak with a staff member. Waterbury dental implants can change your smile!
Waterbury Smiles provides quality general, cosmetic, and restorative dentistry services for Connecticut families. We serve the communities of Waterbury, Watertown, Middlebury, Naguatuck, Woodbury and Southbury. We invite you to make an appointment today!
Dental Implant FAQs
2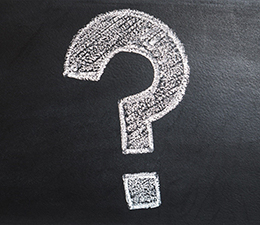 You have more options than ever to rebuild your smile, but only one solution closely mimics your natural teeth. Dental implants in Waterbury are a nearly perfect replica of your real smile. A dental implant is unlike any other treatment because it's the only one to replace both the root and the crown of a tooth. As a result, you will enjoy several benefits to invest in your smile. Although you're excited to get started, we know you have questions before you're ready to commit to the procedure. Here are the answers to the most common ones we hear.
Can I get dental implants if I have gum disease?
While gum disease is preventable, it's the leading cause of tooth loss. If you've lost a tooth or two from the infection, you aren't a candidate for dental implants if it's still active, but that doesn't mean you can't become one. We can stop the infection and create a healthy foundation for your new smile with periodontal therapy. Besides a thorough cleaning, you may also need antibiotic therapy.
Will I need bone grafting?
The long-term success of your dental implants relies on your jawbone supporting the posts. For this to happen, you must have adequate density in your jaw. Your dentist will review a CT scan to check the health of your jawbone during your initial consultation. Based on the results, we may recommend bone grafting to enhance the thickness of your jaw. Although it will add another step to your treatment, it's time well spent to ensure your new smile has the framework it needs to thrive. With the right aftercare, your dental implants can stay fused with your jaw for decades.
Can dental implants fail?
Dental implants are the most predictable solution to treat tooth loss. While they are reliable, they can fail, but it is rare. In fact, the risk is under 5%. You can protect your investment and ensure your new smile lasts through a commitment to your oral hygiene. It's best to brush your teeth at least twice a day and floss nightly. You'll also want to avoid smoking or drinking alcohol in excess. Don't forget to visit your dentist at least twice a year for a cleaning and checkup.
If you develop any concerning symptoms, like pain, redness, or the implant feeling loose, don't wait to contact your dentist. Quick treatment can prevent complete dental implant failure.
Can I use my dental insurance?
Although every policy differs, many dental insurance carriers will cover a portion of the cost after paying your annual deductible until you reach your yearly limit. This can help lower the amount you need to pay for certain steps in your treatment, like X-rays, a CT scan, or restorations.
We will work on your behalf to file the necessary claims and forms to maximize your dental insurance. A member of our team will explain how your benefits are being used and the remaining balance. Our office accepts several payment options to replace your missing teeth without draining your wallet.