Porcelain Dental Crowns in Waterbury: Rebuild Your Smile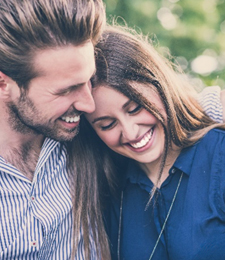 If you're self-conscious about your smile due to cracked, broken, decayed or worn teeth, we can bring back your healthy, natural-looking smile with porcelain dental crowns. While a filling can fix a small defect in a tooth, a crown is actually the most durable and reliable way to restore one with extensive damage, front or back, for the long term. Plus, with all the materials and techniques modern dentistry has to offer, crowns can now be completely natural-looking. If you're ready to get your complete smile back, please contact us today for an appointment.
What is a Porcelain Dental Crown?
A dental crown is actually a tooth-shaped restoration that simply fits over the top and fully encases a natural tooth. They are typically used to repair teeth, enhance their appearance, as well as protect them from any further damage. While crowns can be made of a variety of materials, our practice prefers to use all-porcelain crowns whenever we can as they provide the most lifelike solution while being just as strong as real enamel. Another advantage of using porcelain is that it can be specially shaded to match the color of a patient's teeth to make it blend in more seamlessly.
With porcelain dental crowns, we can:
Fully restore chipped, cracked, broken, or decayed teeth
Repair a tooth that has been fixed using multiple fillings
Strengthen a tooth that has become weak over time
Make a small or misshapen tooth appear more uniform
Close spaces between the teeth
Straighten slightly misaligned teeth
Correct bite alignment issues
Eliminate stains that are resistant to bleaching
Replace missing teeth as part of a bridge or dental implant.
What is the Procedure Like?
The process to get a dental crown typically involves at least two visits to our Waterbury office. At the first one, either Dr. Marini or Dr. Mancini will examine your mouth and determine whether or not a dental crown is the best solution to your problem. If it is, the procedure will begin with them gently shaping the tooth so that the crown will fit securely over it. They will then take an impression, and this will be sent to a dental lab to fabricate your crown. While it is being made, you'll be fitted with a temporary crown.
After a week or so, you'll return to our office to have your brand new crown placed. Your dentist will first etch your tooth so that the crown will have a good "grip" on it, and then they will use dental cement to finally place it. After making a few adjustments and checking your bite alignment, your new smile will be ready for the world.
Come Get Your Smile Back
Porcelain dental crowns can be used to address a wide variety of issues, but one thing always remains the same: they're able to give our patients a beautiful, healthy, and most of all, complete smile. Whether you simply need a cavity repaired or want to enhance the overall appearance of your teeth, they provide an effective and trusted solution we use every day.
If you are interested in getting a porcelain dental crown, or if you would like to learn more, please contact us today to schedule an appointment.