Dental Implants: Permanent, Secure Tooth Replacements at Waterbury Smiles
For Permanence & Performance
It's not uncommon for adults to lose teeth due to accident, injury, disease or extraction. In such cases, we may recommend dental implants as a secure, functional replacement option because they do not rely on neighboring teeth for support. Instead, they're permanently, surgically anchored to the jawbone as tooth root substitutes. The implant's stability helps restore normal eating ability, provide face muscle support, and prevent jawbone atrophy.
Understanding the Procedure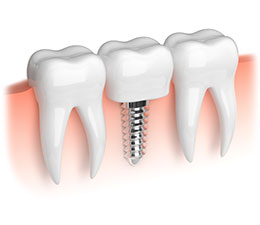 Implants are tiny posts made of either a metallic or bone-like ceramic material. Typically, a periodontal surgeon with special implant training inserts the implant into the jawbone below the gum surface at the location of the missing tooth. The bone then bonds to the post and forms a secure foundation onto which we attach artificial teeth shaped to match your existing teeth. If your jawbone is insufficient for this procedure, we can also fit a custom-made metal framework directly onto the existing bone instead. In some cases, we use implants to anchor bridgework. Regardless of the specific type of implant, the process generally requires a couple of separate steps: "anchoring" and "attachment".
Establishing the Foundation
In most implant situations, we rely on an expert periodontal surgeon to perform the first step of surgically 'anchoring' the tooth root substitute "post" into the jaw-bone below the gum tissue. For the next three to six months, we'll allow this post to incorporate into the bone, forming a solid, enduring base with sufficient stability to withstand the tremendous mechanical pressure involved in normal chewing. Most patients find the presence of these posts to be imperceptible. Meanwhile, we often provide a temporary bridge or dentures to facilitate eating and maintain face muscle support.
Affixing the Replacement
After the implant post has bonded with the jawbone, a second procedure fixes the custom designed top of the implant onto the anchor post. To accomplish this, we carefully uncover each implant anchor, connect it to a small post that protrudes above the gumline. An accurate impression is taken of this and sent to our lab. During this time, our laboratory carefully designs and custom manufactures artificial teeth for use over the implant tops.
The result is a secure, attractive, replacement tooth or set of teeth, designed to function as effectively as the remaining natural teeth. Depending on the number of teeth involved, this final step may take around two weeks to complete.
Enjoying the Results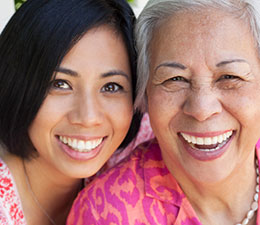 If you're unfamiliar with implant technology, you may be interested to know about the procedure's success rate. In fact, the nearly 20-year-old technique has proven highly effective as a tooth replacement option, depending primarily on the recipient's health, as well as the location and function of the teeth being replaced. Lower front jaw placement is typically successful in 95% of cases, while side or rear placements may be only 85% successful. Of course the outcome is always better for those in good general health, and who have proper bone structure and healthy gums. Often, people unable to wear dentures are among those who benefit most from implants. On the other hand, chronic health problems such as clenching, bruxism, or systemic diseases may decrease the procedure's success rate immensely. Finally, smokers and those who drink alcohol may also be poor implant candidates.
Considering the Cost
Due to the surgery involved, implant procedures are typically more expensive than traditional bridgework. However, dental and medical insurance may cover portions of the overall restoration. It's best to discuss this with Dr. Marini and our staff during your evaluation for implant placement, so we can assist you in working with your insurance company.
A final consideration is that of your own commitment to future oral health, since research shows that poor oral hygiene itself can cause implant failure. So if you do receive implants, you'll need to be dedicated to brushing and flossing around your fixtures at least twice a day, according to our specific instructions. Further, we may recommend that you come in for up to four annual professional cleanings to maintain healthy gums.
Waterbury Smiles provides quality general,cosmetic, and restorative dentistry services for Connecticut families. We serve the communities of Waterbury, Watertown, Middlebury, Naguatuck, Woodbury and Southbury. We invite you to make an appointment today!