Dentist in Waterbury for a Dental Bridge and Crowns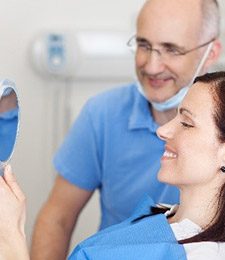 Your teeth are designed to last for a lifetime with the right care. However, even with the best preventive measures in place, tooth loss can still occur. When even one is missing, it causes your quality of life to decrease as you can no longer chew or speak as easily as before. Not to mention, your oral health can start to decline as your remaining natural teeth lose the support that they need. To regain a complete smile, your dentist in Waterbury offers the solutions that you need. With a bridge and crowns, you will fill the empty space to restore your confidence.
Replace Missing Your Teeth
When you suffer from tooth loss, it can feel as though your self-esteem was lost with it. The empty space in your smile can make you feel insecure while also making your ability to chew and speak more difficult. However, these are not the only complications that can occur.
Every tooth in your mouth serves an important role. When even one is missing, it can cause complications with your remaining teeth. They can begin to shift toward the open space, leading to overcrowding and alignment issues. This makes oral hygiene difficult, increasing your risk for tooth decay, gum disease, and additional tooth loss.
Dental Crowns and Bridge
To protect your oral health, it is important to replace the missing teeth as quickly as possible. A common solution involves the use of a dental bridge. A fixed dental bridge involves fabricating custom-made prosthetic teeth which will fill the space between the remaining teeth to give them the support that they need while completing your smile.
To hold the bridge in place, dental crowns in Waterbury are needed. The adjacent teeth are shaped to allow them to be easily placed over them. They will be made to match your exact specifications in terms of size, shape, and color so they will look like natural teeth. They are then bonded with cement to hold the dental bridge in place.
Invest in Your Confidence Today
With a dental bridge, you can restore your confidence with a complete smile. With the right care, it can last for an average of five to fifteen years before needing to be replaced. To promote its longevity, it is best to maintain your oral hygiene and regular care with your dentist.
In addition, it is suggested that you avoid foods that place unnecessary stress and pressure on the bridge. Instead, it is recommended that you eat plenty of fresh fruits and vegetables, as well as fiber.
Get a New Smile Today
If you are ready to stop living with the challenges and insecurities of tooth loss, Waterbury Smiles can help. After performing an initial consultation, Dr. Marini and Dr. Mancini will determine if you are a candidate for a dental bridge and crowns. With a customized treatment plan, we will help you regain a complete smile.