Are Silver Amalgam Fillings Bad for Your Health?
No, they are not. There are some people who think that silver fillings cause a variety of health problems. However, there have been a number of well-done studies recently looking at large groups of people. There are, after all, hundreds of thousands of people who have silver fillings in their teeth. No link between silver fillings and health problems has ever been demonstrated in a well done, controlled study. A very small percentage of people are allergic to the material, and react to silver fillings much the same as people who can't wear certain kinds of jewelry or eat certain foods. What has been alleged is that silver fillings cause a variety of health ailments. This has never been shown to be true.
We do not recommend replacing fillings for health reasons because there is no health benefit. If you don't like the way they look, or if you need a filling replaced for other reasons, there are alternatives to silver fillings. In fact, we use tooth colored fillings routinely because they work better than silver fillings in many situations and look great.
At our office we prefer to provide our patients with the newest and best alternatives available, which are bonded ceramic or composite resins. Not only do they look natural, they provide a much better service and protection for your teeth, as they eliminate all the shortcomings of the old fashioned silver fillings. They seal the teeth better, insulate against hot and cold better, and if they wear down they can be repaired easier.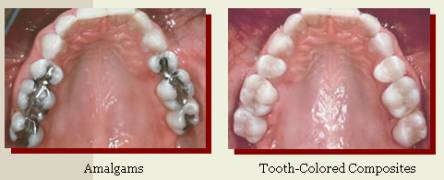 Waterbury Smiles provides quality general,cosmetic, and restorative dentistry services for Connecticut families. We serve the communities of Waterbury, Watertown, Middlebury, Naguatuck, Woodbury and Southbury. We invite you to make an appointment today!