June 9, 2020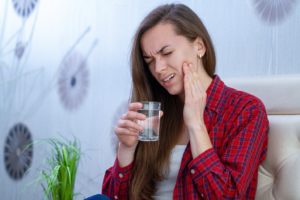 Are you serious about protecting oral hygiene? You may diligently use a mouthwash, floss once a day, and brush twice a day. You certainly deserve commendation for your good habits! However, there are cases in which individuals have become too enthusiastic about oral hygiene; they may apply too much pressure when they brush their teeth. A dentist in Waterbury is here to explain how overaggressive brushing can harm your smile and how you can apply proper brushing technique.
What Happens if You Brush Too Hard?
Brushing your teeth too hard can have two devastating consequences for your oral health:
Premature wear and tear. Tooth enamel is very hard — in fact, it is the hardest substance in the human body. However, it can get worn away by overaggressive brushing. Applying too much pressure may slowly erode your enamel, which cannot repair itself once it suffers significant damage. You may experience increased dental sensitivity and a heightened risk of cavities.
Gum recession. Brushing too hard can cause the gum tissue to shrink back. Not only will this affect the way your smile looks, but if the recession progresses far enough, the roots of your teeth may become exposed. Tooth roots are much more sensitive to outside stimuli and may be more prone to decay than the top portion of teeth because they have no enamel to protect them.
Proper Brushing Technique
If your toothbrush bristles become frayed very quickly, or your gums are often sore after your brush, there is a good chance that you are applying too much pressure. Here are some tips to help you properly clean your teeth:
Make sure you are using a soft-bristled toothbrush.
Hold the brush at a 45-degree angle against your teeth and use short, tooth-wide strokes.
You should feel the bristles against your gums, but you should never "smash" them down.
Holding your toothbrush in your non-dominant hand may help you to lighten up on the amount of pressure you apply.
If you use an electric toothbrush, you do not have to press it hard against your teeth; just make sure it makes contact with them.
The next time you receive a professional dental service, ask your dentist or dental hygienist for tips on how you can improve your at-home oral hygiene routine. They will be happy to give you some pointers.
Your toothbrush is one of your best friends in your efforts to maintain sound oral health… but only if you use it properly. Use the above tips to make sure you are being gentle on your smile.
About the Author
Dr. Luciano Marini is the leader of our team at Waterbury Smiles. He is a Waterbury native and has been in private practice since 1986. He provides a broad range of treatments, from preventive care to complex procedures. If you would like Dr. Marini's help to improve or maintain your oral health, or if you would like to learn more about our practice, contact our team at 203-575-9097.
Comments Off on The Harmful Effects of Brushing Your Teeth Too Hard
No Comments
No comments yet.
RSS feed for comments on this post.
Sorry, the comment form is closed at this time.