February 3, 2021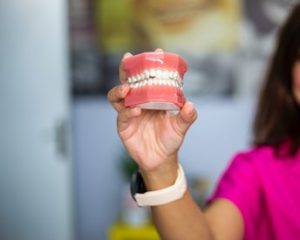 If you've experienced significant tooth loss, dentures in Waterbury are a great way to treat your missing teeth. New advancements in dentistry have improved their fit and appearance to look and feel more realistic than ever. Not to mention, they can serve you for years with the right care, but they won't last forever. There will come a time when your dentures will need to be replaced, but when? Here are 5 signs you might need to see your dentist for a new pair of dentures.
1. Your Dentures Feel Loose
Your jaw and gum tissue will change shape as your bone shrinks. As a result, your denture might not fit as snuggly as before. They might even fall out of your mouth. You can try a different adhesive, but if it doesn't fix the problem, it's best to contact your dentist for an adjustment or a replacement.
2. Difficulty Speaking Clearly
If your dentures aren't fitting correctly, you can experience slipping while you're speaking. Your words might sound slurred, which can indicate you need to call your dentist to solve the issue.
3. Irritation or Sores
Poorly fitting dentures can lead to pain and discomfort of your gum tissue. The irritation can increase when biting or chewing. If the problem isn't corrected, you may even develop sores or lesions in your mouth, which can become infected without the right intervention.
4. Damage or Discoloration
Your dentures will experience daily wear and tear. Over time, chips and fractures can occur. Your teeth might even loosen. Not to mention, your denture can appear discolored as the years pass, especially if you drink coffee, tea, or wine regularly. New dentures will restore a bright, beautiful smile you'll want to show off.
5. Changes in Function
If you're suddenly having difficulty chewing certain foods, your denture may not be creating a balanced bite. You won't have to skip eating your favorite meals by restoring harmony to your smile.
Stabilize Your Denture
Despite being more durable than ever, you'll need new dentures about every 5 to 7 years. You can promote how long they last by caring for them properly at home and visiting your dentist regularly. If you are interested in a more permanent option, ask your dentist about the benefits of stabilizing your denture with dental implants. 4 to 10 implant posts anchor your denture to your jawbone, giving unmatched support. With over a 95% success rate to last for decades, you'll enjoy a long-term investment.
If your dentures are slipping, your dentist can stop the irritation and reinstate your quality of life. They have the personalized solutions you need to complete your smile.
About Dr. Luciano Marini
Dr. Marini earned his dental degree at the University Connecticut School of Dental Medicine. He has dedicated countless hours to continuing education to treat complex issues, like tooth loss. Whether you're interested in dentures or dental implants, contact our office today to schedule a consultation to replace your missing teeth.
Comments Off on 5 Signs You Should Replace Your Denture
No Comments
No comments yet.
RSS feed for comments on this post.
Sorry, the comment form is closed at this time.