February 14, 2021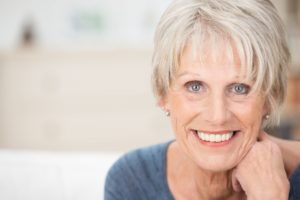 If you've suffered significant tooth loss in one or both arches, dentures in Waterbury can rebuild a beautiful, functional smile. They are the most traditional solution to treat an entire arch of missing teeth. They consist of an acrylic base that features custom-made prosthetic teeth, which rest on top of your gum tissue. To prevent your denture from moving around, you may need an adhesive. Applying and removing an adhesive correctly can be a bit challenging at first. Don't worry, here are the tips you need to keep your denture snuggly in place.
Should I Use an Adhesive?
A denture adhesive is a product designed to temporarily attach your dentures to your gum tissue. Not only does this create stability, but it also prevents food particles from becoming trapped between your gums and dentures. Although an adhesive is often used, it isn't always necessary. Here are reasons you may want to consider one:
Improve the strength and stability of your denture to promote your biting force and overall comfort.
Resolve adhesion caused by dry mouth, which is common for older people who take certain medications.
Reduce facial strain through a stronger adhesion, such as for teachers, athletes, singers, or other professions that require a lot of speaking.
How Do I Use a Denture Adhesive?
If you're ready to give an adhesive a try, your first step is to find the best product for your needs. While there are several on the market, not all will be right for you. There are a few things to keep in mind when making your selection, such as whether you want a firmer fit or an easier cleanup. The ideal adhesive will provide stability, a strong seal, and be easy to remove. Your dentist will recommend avoiding any that contain zinc. Overuse of zinc can increase your risk of medical issues.
After you've found an adhesive, you can apply it to your denture in 3 simple steps:
Clean your dentures.
Apply the adhesive according to the instructions on the packaging.
Immediately position your dentures in your mouth and hold them in place for a few seconds.
If you don't achieve the results you want after a couple of weeks, consider choosing a different product to reach your goals.
How Do I Remove the Adhesive?
It's best to remove your dentures at night to give your gums time to rest, which may leave behind some adhesive. There are several ways you can remove it, such as:
Use your fingers or a soft-bristled toothbrush to loosen the residue.
Rinse your mouth with water.
Use a paper towel or soft cloth to gently rub your gums.
If you're not achieving the results you want with an adhesive, ask your dentist about adding the stability of dental implants to your smile.
About Dr. Ann Marie Mancini
Dr. Mancini earned her dental degree from the Tufts University School of Dental Medicine. She remains current with the latest treatments and techniques to offer advanced services. If you're ready to replace your missing teeth, contact our office today to schedule a consultation.
Comments Off on Stabilize Your Denture with an Adhesive
No Comments
No comments yet.
RSS feed for comments on this post.
Sorry, the comment form is closed at this time.