May 13, 2021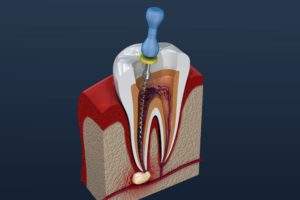 If you have an infected tooth, your dentist likely recommends a root canal to treat it. 15 million root canals are performed annually because the procedure has over a 95% success rate to save teeth from extractions. You can benefit from a tried-and-proven treatment to ensure your tooth thrives for a lifetime, but how long will it take? Your dentist understands your schedule is busy, which is why they use the latest advancements in dentistry to reduce your time in the dental chair. Although every case differs, here's how long you can expect your treatment to last.
Root Canal Treatment Process
After an initial consultation with your dentist, they'll create a personalized plan to rehabilitate your tooth. On average, it takes 1 to 2 hours to perform the procedure depending on which tooth you're having treated.
The first phase of the procedure involves extracting the inner layer of your tooth, called the pulp. Before getting started, you'll be given a local anesthetic to ensure you're comfortable. Once you're numb, they will use special dental instruments to remove the pulp and clean your tooth. Your dentist will consult an X-ray to ensure all areas of damage have been resolved before it is sterilized and sealed with a special material called gutta-percha.
If you'll require a dental crown, they'll prepare your tooth by reshaping it. A crown is often needed to provide an added layer of protection to prevent additional complications while also restoring the tooth's appearance and function. Once they've prepared your tooth, they'll take an impression of your mouth to get the measurements necessary to create your restoration. Finally, they'll place a temporary crown over your tooth.
Your impression is sent to a dental lab where it will be carefully crafted to meet your exact specifications. This can take a couple of weeks, so you'll need another appointment after it has been sent back to our office. During your final appointment, your temporary crown is removed, and the permanent restoration is cemented in place.
Root Canal Therapy Recovery
You won't need to worry about a lengthy recovery. In fact, most patients can resume their regular activities the same day as their procedure; however, you can expect there to be some discomfort. Your tooth might be a bit tender, but you can manage it by taking an over-the-counter pain reliever. You may also want to stick to softer foods and avoid chewing with the tooth until your discomfort subsides in a couple of days.
Schedule Your Root Canal
Don't delay your root canal because you're busy. Your dentist uses the latest technologies and techniques to repair your tooth, so you can get back to your daily responsibilities quickly.
About Dr. Alexandra Galante
Dr. Galante earned her dental degree from the Tufts University School of Dental Medicine and completed her residency in general dentistry. She remains current with the latest advancements in the dental field to offer comprehensive care. If you need a root canal, she has the qualifications you can trust. Contact our office today to schedule your consultation.
Comments Off on How Long Does Root Canal Therapy Take?
No Comments
No comments yet.
RSS feed for comments on this post.
Sorry, the comment form is closed at this time.