June 30, 2021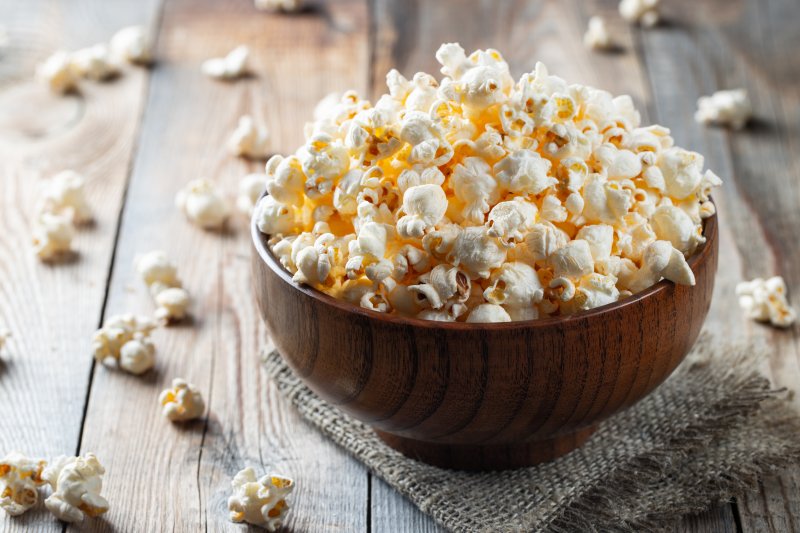 How do you like to end a busy day that you spent at the office? For a lot of people, it involves cozying up on the couch at home and putting on a movie. Of course, no film seems to be complete without a big bowl of buttery, salty popcorn. Americans eat approximately 15 billion quarts of it every single year! This delicious, crunchy snack might be better for you than starchy potato chips or a bowl of cookies, but popcorn actually isn't the best option for your teeth. Continue reading to learn more about the relationship between the two.
How Does Popcorn Affect Your Teeth?
Here are some of the dangers that could put your oral health at risk when you are enjoying a bucket of popcorn:
Lactic Acid: Popcorn creates lactic acid in your mouth. If you don't already know, acid and teeth are not a good combination. The lactic acid strips away at the protective enamel of your teeth and can leave them vulnerable to tooth decay, sensitivity, and other dental issues.
Popcorn Hulls: Anytime you finish a bucket of popcorn, you can feel a popcorn hull stuck between your teeth and sometimes beneath your gum. These can be difficult to remove and painful! If you don't get this out, it can even irritate the gum tissue and lead to an abscess.
Unpopped Kernels: When you pop popcorn, not all of the seeds end up popping. There are always leftover kernels mixed in at the bottom. If you aren't careful, you could end up biting really hard on one. Since these objects are so hard, you could break or crack your tooth in the process.
What Are Some Alternatives to Popcorn?
Just because popcorn isn't the best option doesn't mean that you can't have a snack during your favorite movie. Here are some alternative snacks that are much better for your oral health:
Salted Nuts: Instead of popcorn, have some salted nuts. They are rich in protein and can help to strengthen your teeth. They also promote saliva production which helps to wash away lingering bacteria and food debris in your mouth.
Cheese: Dairy products, like cheese, are a good source of calcium and promote strong teeth. Cheese also contains a protein called casein, which strengthens tooth enamel and prevents cavities.
Veggies and Dip: High-fiber fruits and vegetables are great for your smile. Try having carrots, celery, or cucumber. If you don't want to have them on your own, choose a dip, like hummus, to make them even more delicious.
Next time you're looking for a snack to munch on during a film, don't turn to popcorn. Try some of the alternative snacked listed above. This way, you can keep your smile in good health!
About the Author
Dr. Luciano Marini is an experienced dentist who has been working in the field for more than three decades. He earned his dental doctorate from the University of Connecticut School of Dental Medicine. Currently, he is a proud member of the American Dental Association, Connecticut Dental Association, and Waterbury Dental Society. For more information or to schedule an appointment, visit his website or call (203) 575-9097.
Comments Off on How Does Popcorn Affect Your Oral Health?
No Comments
No comments yet.
RSS feed for comments on this post.
Sorry, the comment form is closed at this time.