July 6, 2021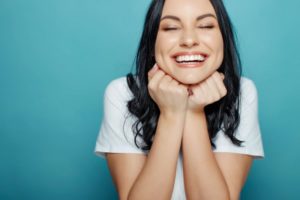 Whether you have a small chip in your tooth, significant gaps, or stubborn stains, it can sometimes be hard to choose the right cosmetic dentistry service for you. Luckily, there's one treatment that is becoming increasingly popular: dental bonding. Also known as cosmetic bonding, dental bonding is quick, painless, and corrects multiple imperfections simultaneously with natural-looking results. Before you invest in this service, however, you might be wondering how long you can expect your results to last. Keep reading as we answer the question: Is dental bonding permanent?
But First, What Exactly Is Dental Bonding?
Dental bonding is a simple procedure. Your dentist chooses a shade of composite resin (the same material used in tooth-colored fillings) that closely matches your natural enamel. Then, they sculpt the resin over the flaws in your tooth before using a curing light to harden the material within seconds. Depending on how many teeth you wish to fix, the whole process can be completed in as little as an hour!
Is Dental Bonding Permanent?
Unfortunately, dental bonding is not permanent. Although composite resin is quite durable, it's not nearly as strong as your natural tooth enamel. On average, bonding lasts for five to seven years before it has to be replaced, but you can extend its lifespan even further with proper maintenance.
How to Make Dental Bonding Last
After getting cosmetic dental work done, you'll naturally want to make your results last as long as possible. Luckily, taking care of bonded teeth involves many of the same steps as maintaining any other teeth, including:
Avoid using your teeth as tools for opening packaging, chewing pen caps, biting your fingernails, etc.
Try not to bite down too forcefully on hard foods, like ice cubes or hard candy, with your bonded teeth.
If you smoke, quit; tobacco is one of the leading causes of tooth discoloration as well as numerous health problems.
Limit foods and beverages that could stain your teeth, such as coffee, tea, and wine.
Brush and floss your teeth every day.
Visit your dentist for a checkup and cleaning at least twice per year.
Other Factors That Affect the Lifespan of Dental Bonding
Besides your lifestyle habits, other factors can influence how long your bonding lasts, such as:
Bite alignment – Since composite resin isn't as durable as enamel, it can wear down quickly if your upper and lower teeth don't come together properly.
Teeth grinding – If you tend to grind your teeth while you sleep, ask your dentist about a nightguard. Not only will it reduce damage to your bonding, but it can lower your risk of TMJ disorder, tooth fractures, and sensitivity.
Location of the bonding – Bonding on the chewing surface of a tooth is more likely to crack because it's exposed to more pressure.
Even though it doesn't last forever, dental bonding is a great way to say goodbye to several aesthetic flaws in your smile at the same time. Ask your dentist if dental bonding is right for you!
About the Practice
At Waterbury Smiles, our team offers a variety of cosmetic dentistry services as well as family dental care. We use the latest dental technology and provide several amenities to ensure our patients are comfortable throughout their treatment. To find out if we can improve your smile with dental bonding, contact us at 203-575-9097.
Comments Off on Is Dental Bonding Permanent?
No Comments
No comments yet.
RSS feed for comments on this post.
Sorry, the comment form is closed at this time.