July 23, 2021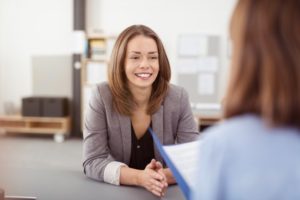 You have an interview for your dream job coming up soon, and you couldn't be more prepared. You've carefully rehearsed answering interview questions, perfected your resume, and selected an outfit that exudes professionalism. There's just one problem – you're self-conscious about your stained teeth. If you want to boost your confidence, you might be wondering: When should I start whitening my teeth for a special event? Whether it's a job interview, a wedding, or even a get-together with friends, you deserve to look and feel your best. Here's how long it should take for professional teeth whitening to help!
Why Visit Your Dentist for Teeth Whitening?
While you can find teeth whitening strips, gels, toothpastes, and more for cheap at your local drugstore, the results these products deliver at lackluster at best. If there even is a noticeable difference, it probably won't last long. Plus, over-the-counter whiteners are mainly one-size-fits all, which means they're not designed with your specific smile in mind. As a result, they're more likely to cause tooth sensitivity and gum irritation.
Professional teeth whitening, on the other hand, is safer and more effective. Your dentist uses bleaching products that are exponentially more potent than store-bought solutions. They can give you lasting, dramatic results in a more comfortable and quicker way.
How Long Does Teeth Whitening Take?
When you visit your cosmetic dentist for a teeth whitening consultation, they'll give you an estimate of how long your treatment will take. The timeline primary depends on which type of teeth whitening you choose.
In-Office Teeth Whitening
If you're on a bit of a time crunch, then in-office teeth whitening may be ideal for you. Not counting the consultation, this method only takes a single appointment that lasts about an hour. Your dentist will apply a highly concentrated bleaching gel to your teeth that breaks down stubborn stains. When the gel is wiped away, off come the stains!
Take-Home Teeth Whitening
If your schedule is hectic, then you may prefer take-home teeth whitening. Your dentist will take impressions of your teeth and design custom trays that fit your unique mouth. Simply fill the trays with the professional bleaching gel and wear them for about 30 minutes a day. After about two weeks of daily use, you can achieve the same results as in-office whitening from the comfort of your own home!
Don't Delay – Get a Beautiful Smile Today!
To make sure you get the results you want in time for your special event, schedule a consultation with your dentist at least a few weeks in advance. That way, there will be plenty of time to arrange the treatment and take care of any oral health issues that need to be addressed beforehand, like cavities.
By seeing your dentist for professional teeth whitening, you'll be sure to impress everyone at your special event with your self-confidence!
About the Practice
At Waterbury Smiles, our dentists are dedicated to helping patients attain smiles they can be proud of. We offer a variety of services in a comfortable environment, including in-office and at-home teeth whitening. To start looking your best for an upcoming event, contact us at 203-575-9097.
Comments Off on When Should I Start Whitening My Teeth for a Special Event?
No Comments
No comments yet.
RSS feed for comments on this post.
Sorry, the comment form is closed at this time.