September 27, 2021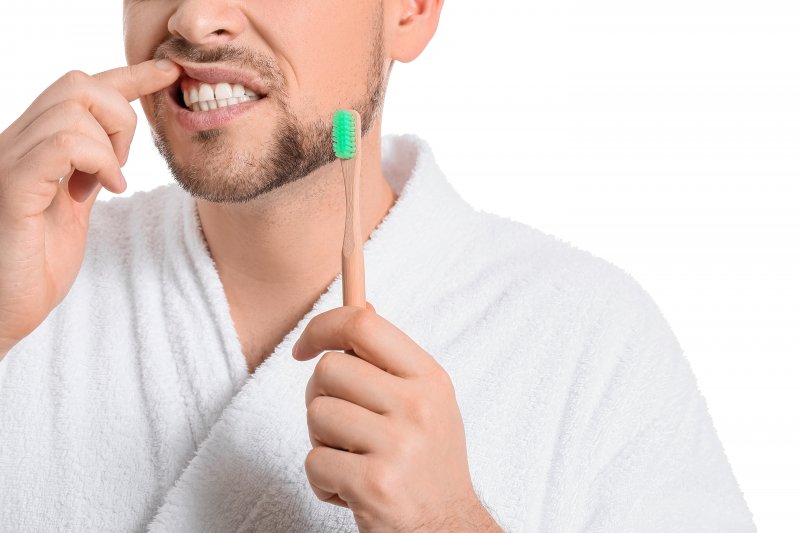 According to the U.S. Department of Health and Human Services, approximately 1 in 7 adults ages 35-44 have some form of gum disease. As gum disease becomes more severe, it can affect more than just your gums. If it gets bad enough, it may even change the structure of your face. Luckily, there are serval ways to stop gum disease in its tracks. Read on to learn more about the connection between gum disease and facial shape as well as how to avoid further oral health issues.
What is Gum Disease?
Gum disease, or periodontal disease, is a bacterial infection that causes inflammation of the gums around the base of the teeth. Symptoms of gum disease include persistent bad breath, pain when chewing, loose teeth, toothaches, or gums that are bright red or purple, bleed easily, swollen, or receding. If it progresses far enough, it can even lead to tooth loss.
How Gum Disease Can Alter Face Shape
Tooth loss from gum disease can affect more than just your smile. Because the tissue of your jawbone relies on constant stimulation from your teeth, tooth loss can affect your overall face shape. Patients can lose as much as 25% of their jawbone ridge width in the first year post-tooth loss and as much as 4 millimeters over the next few years. Some of the more specific ways gum disease can affect facial shape include:
Bone loss can affect the bite relationship and cause the angle at the corner of the lips to decrease. This gives the teeth a harsh appearance and leaves you with a constant scowl.
As tooth loss progresses, the height of the jawbone is reduced. This shortens your face and increases your bite force, leading to more severe bone loss.
The decline of the bite relationship may cause the chin to move forward which can make patients look older than they are.
Tooth loss can make your lips thinner from lack of support. The muscles surrounding the mouth may weaken, resulting in wrinkles or a more pronounced upper lip.
Advanced periodontal disease can affect the attachments in the lower jaw muscles, making the tissue sag, which can lead to a "witch's chin" or jowls.
How to Prevent Gum Disease
The earlier gum disease is diagnosed, the better. In its early stages, an antibacterial mouthwash, deep cleaning, and better dental hygiene practices can improve your condition. For worse cases, removal of the infected tissue in the tooth pockets might be necessary to speed up the healing process. For patients who have already experienced tooth loss due to gum disease, your dentist may recommend dental implants to provide jawbone stimulation to help maintain your face shape.
If you think you're showing signs of gum disease, make sure to reach out to your dentist as soon as possible to avoid further complications. Through early treatment and improved oral health routines, you can keep your mouth healthy and your face the correct shape!
About the Practice
The residents of Waterbury and the surrounding communities of Watertown, Middlebury, Naguatuck, Woodbury and Southbury are in good hands! Waterbury Smiles provides compassionate dental care to patients of all ages through the latest dental technology. They are dedicated to providing a safe and comfortable environment where individualized patient care is of the utmost importance. Our top-notch services will help you and your family get your dental health back on track! To learn more about how gum disease can impact the shape of your face, call (203) 575-9097 or visit our website.
Comments Off on How Gum Disease Affects Facial Shape
No Comments
No comments yet.
RSS feed for comments on this post.
Sorry, the comment form is closed at this time.