October 8, 2021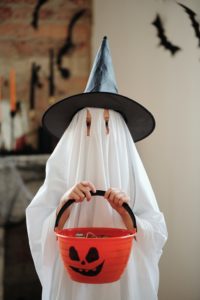 Halloween is right around the corner, which means plenty of scary costumes and decorations. While you enjoy your favorite horror movies and get ready for trick-or-treaters, try something a little different this year with a few Halloween candy alternatives. You can help combat tooth decay in your community by swapping out sweets for other delicious treats. Here are 10 great substitutes to support cavity-free smiles.
1. Slime
Although it might be every parent's worst nightmare, children can't get enough of slime. You can purchase it online, or even make your own for a little gooey fun.
2. Glow Sticks
Children love glow sticks. They are the perfect alternative to candy because they are sugar-free and make young trick-or-treaters easier to spot in the dark.
3. Hair Scrunchies
As fashion trends come and go, hair scrunchies are once again a popular accessory. Typically, scrunchies can be found for around .50 cents each. They come in many spooky patterns and designs.
4. Drink Packets
Single drink packets are a refreshing treat after a long night of trick-or-treating, like apple cider or hot cocoa. You can also offer bottles of water for anyone who might need a little hydrating while on the go.
5. Slap Bracelets
Besides scrunchies, slap bracelets are back in the spotlight. Children enjoy the entertaining accessory, which are available in many styles, including Halloween-inspired themes.
6. Bouncy Balls
You're never too old for a good bouncy ball. You can find creepy eyeballs and other scary choices online in bundle packages. Keep in mind the size of the balls to ensure little trick-or-treaters can't fit them in their mouths.
7. Play-Doh
Hand out a mixture of Halloween-colored Play-Doh. Children will instantly spot the iconic containers and won't even miss the candy.
8. Bubbles
Party-sized bubbles are a great option to encourage healthy smiles. Pass them out along with Halloween stickers to decorate the bottles later.
9. Snack Bags
Although your dentist recommends skipping starches and other foods that can cling to your teeth, they can often be the lesser of two evils when compared to some candy. Single servings of pretzels or Goldfish are healthier replacements for candy bars and lollipops.
10. Slinkies
Slinkies can provide hours of lasting joy instead of the few seconds it takes to eat a piece of candy. You can keep the Halloween spirit going by swapping candy for the timeless toy.
As you spend the evening passing out Halloween goodies, don't forget to swap your own snacks for healthier alternatives. Be sure to brush and floss your teeth before calling it a night.
About Dr. Luciano Marini
Dr. Marini earned his dental degree from the University of Connecticut School of Dental Medicine. Dr. Marini focuses on creating healthy, beautiful smiles using the latest advancements in dentistry. He strives for 100% satisfaction when helping his patients reach their oral health goals. As a member of the American Dental Association and the Waterbury Dental Society, you can feel confident your smile is in qualified hands. Contact our office today to schedule an appointment.
Comments Off on 10 Non-Candy Alternatives for Halloween
No Comments
No comments yet.
RSS feed for comments on this post.
Sorry, the comment form is closed at this time.