October 25, 2021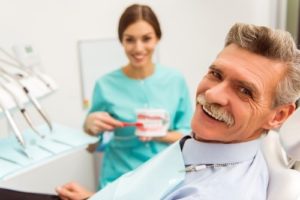 You are one step closer to living a life free from dental pain and insecurities about your smile. Your full mouth reconstruction appointment is right around the corner. Your dentist has already discussed the procedures you'll be needing and what to expect during your appointment; however, it's normal to have a few concerns about the recovery. Unfortunately, the recovery doesn't look the same for everyone because full mouth reconstruction uses various restorative treatments based on your specific needs. Don't worry, here's what you can expect when needing common procedures.
Dental Fillings
Modern fillings are made of a composite resin material that's customized to the shade of your enamel to blend in with your tooth. As the most popular restorative procedure, most cavities can be treated in one appointment. While it may take an hour or two for any numbing agents to wear off, most people can resume their normal activities immediately.
Crowns and Bridges
Damaged or missing teeth can be restored using all-ceramic restorations. Whether needing crowns or a bridge, you can expect the process to take about 2 appointments. It's normal for your tooth to feel a little tender, but it's often safe to resume your daily activities on the same day. If any sedation was needed, it's best to spend the rest of the day relaxing.
Root Canal Therapy
An infected tooth can be saved with root canal therapy. Despite its bad reputation, modern dental advancements make the procedure virtually pain-free. After any anesthetics wear off, your mouth may be a little sore for a few days, but you can manage it using an OTC pain reliever.
Tooth Extractions
Although your dentist does what they can to save compromised teeth, sometimes they are beyond repair. If you have several significantly damaged or missing teeth, it can also be more cost-effective to have them extracted. There isn't a limit on the number of teeth that can be removed during a single appointment, so you won't have to worry about multiple recoveries. You can expect it to take about 1-2 weeks for your gum tissue to recover and several months for the underlying bone to heal. Generally, you can expect to be back to your normal routine after 3-5 days.
Dental Implants
Recovering from your implant placement surgery is like the healing process of extractions. Your mouth will be sore for a few days, and you can expect bruising and swelling. Prescribed or OTC pain relievers will keep you comfortable. In about 2 weeks, your gums will be healed, but it can take up to 6 months for your jaw to fuse to the implants.
A brief recovery is a small price to pay for the benefits you'll gain from your new smile. If you have any concerns, don't hesitate to contact your dentist.
About Dr. Alexandra Galante
Dr. Galante earned her dental degree from the Tufts University School of Dental Medicine before completing her residency at Danbury Hospital. She has the training and qualifications you can trust to restore a beautiful, functional smile. Contact our office today to schedule your consultation for full mouth reconstruction.
Comments Off on Recovery Timeline for Full Mouth Reconstruction
No Comments
No comments yet.
RSS feed for comments on this post.
Sorry, the comment form is closed at this time.