November 13, 2021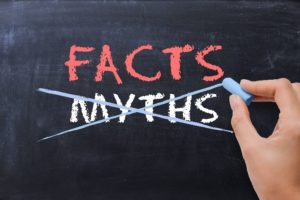 If your dentist has recommended root canal therapy, your first instinct might be to run. Root canals have a bad reputation, but much of what you've heard likely isn't true. Don't let common misconceptions cost you a complete smile. Here are the facts about 4 popular root canal myths to make the right decision for your dental health.
Myth #1: Root canals are very painful.
Fact: Root canals are often associated with a painful procedure, which can cause anyone's anxiety levels to rise. If you aren't familiar with the treatment, it's natural to assume the rumors are true, but advancements in dental care make a root canal virtually pain-free. While your mouth may be a little tender for a few days, you shouldn't experience any pain during your procedure. You can manage any discomfort using an OTC pain reliever.
Myth #2: An extraction is better long-term.
Fact: You might believe extracting a problematic tooth is the best solution, but it will cost you more down the road. An extraction will eliminate the issue at the source, but it opens the door to a long list of complications.
Losing even a single tooth will compromise your oral health, increasing your risk of cavities, gum disease, and missing teeth. If you want to preserve your smile, you'll have to pay for a bridge or dental implant, which can get expensive. You can save money and your tooth with root canal therapy. You'll keep your natural tooth to avoid future procedures for reduced overall dental expenses.
Myth #3: Root canals cause illness.
Fact: A root canal will not cause illness. In fact, it can prevent potentially deadly infections. Without prompt treatment, the oral infection can spread into your bloodstream. As it circulates throughout your body, your general health will be compromised. Root canal therapy will eliminate the infection to keep your mouth and body healthy.
Myth #4: You must have a toothache to need a root canal.
Fact: Although infected teeth are often painful, not everyone experiences a toothache. If you aren't in any pain, the tooth has likely died. That doesn't mean your problem has been solved. The tooth will continue to deteriorate until it falls out or an extraction is necessary. A root canal can save your tooth, even if you don't have a toothache. Your dentist can treat the infection and reinforce your tooth's structure, allowing it to thrive for many years.
Preserve Your Smile Today
There's a lot of information on the internet, but you know not everything is true. Don't let rumors affect the decisions you make for your oral health. Your dentist is only a phone call away if you have any questions about your smile.
About Dr. Luciano Marini
Dr. Luciano Marini provides all aspects of dental care to help his patients achieve healthy, beautiful smiles. His exceptional qualifications have awarded him recognition as a Top Dentist by the Connecticut Magazine and The Waterbury Observer. If you need a root canal, he has the expertise you can trust. Contact our office today to schedule your consultation.
Comments Off on Busting 4 Myths About Root Canals
No Comments
No comments yet.
RSS feed for comments on this post.
Sorry, the comment form is closed at this time.