November 10, 2021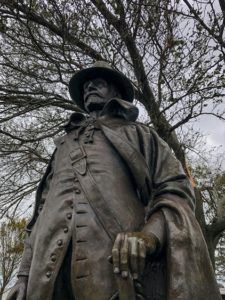 Generations have passed since early Americans gathered around the Thanksgiving table for the first time to celebrate their new lives. As you join friends and loved ones for the upcoming holidays, your smile likely isn't at the top of your appreciation list, but it should be. Indian Americans did more than just show our ancestors the way of the land. They also shared oral hygiene methods. Here's how their partnership led to the oral hygiene methods we use today.
Early Oral Hygiene Options
Pilgrims didn't have access to the types of dental products or home remedies we use today. Although their options were limited, they made use of what they had. Historians have found relics of the first toothbrushes. They were made of hog hair attached to the end of a twig or bone. While they may have been effective, they had their limitations when combating bacteria growth.
Pilgrims may have sailed across the ocean, but Indigenous Americans were steps ahead in oral hygiene. They used sage for more than just a tasty seasoning. They also used it, along with twigs, to scrub their teeth. This led to the development of modern toothpastes to safeguard against several oral health issues, like tooth decay.
Thanksgiving Oral Hygiene Tips
Every time you brush your teeth this holiday season, take a minute to appreciate your minty-fresh breath. Oral hygiene has grown leaps and bounds over the centuries, making it possible to preserve natural teeth for longer than ever. Dental care focuses on prevention to stop common oral health problems from occurring in the first place, like cavities and gum disease.
Your first line of defense against these issues begins at home with the dental products you choose. The American Dental Association recommends brushing your teeth at least twice daily. If you're snacking more during the holidays, brush after every meal. You don't have to use twigs and sage to clean your teeth. Instead, look for dental products that have earned the American Dental Association's Seal of Acceptance, which means they have been tested for safety and effectiveness.
It's best to use a soft-bristled toothbrush and fluoride toothpaste to clean all surfaces of your teeth. You want to brush for at least 2 minutes in the morning and at night. Besides your toothbrush, you have an additional tool the Pilgrims and Native Americans didn't have–dental floss. Flossing cleans areas your toothbrush can't reach. Your dentist recommends flossing between each tooth at least daily.
Besides caring for your smile at home, show your teeth and gums the appreciation they deserve with a trip to your dentist. A cleaning and checkup will ensure your smile stays healthy for a lifetime.
About Dr. Ann Marie Mancini
Dr. Mancini earned her dental degree from the Tufts University School of Dental Medicine. She is a member of various professional organizations, including the American Dental Association. She focuses on prevention to create generations of healthy smiles using the proven innovations in dentistry. Contact our office today to schedule your cleaning and checkup.
Comments Off on Oral Hygiene's Role in the First Thanksgiving
No Comments
No comments yet.
RSS feed for comments on this post.
Sorry, the comment form is closed at this time.