December 24, 2021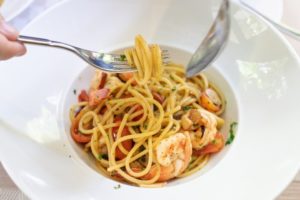 Fluoride is key for healthy teeth, but you don't have to depend entirely on your toothpaste to get it. There are many drinks and foods that can help raise your level.
If your dentist in Waterbury suggests you have more of this mineral, knowing these items can be valuable as you make day-to-day nutritional decisions. Keep reading to learn some tasty beverages and foods with fluoride that can aid your oral health!
Black Tea or Coffee
When you brew black tea with tap water, you'll get fluoride from two sources. The tea leaves contain the mineral. Similarly, if you brew coffee with tap water, you get a double dose of fluoride.
Raw Fruit
You'll be happy to know that most raw fruit has fluoride! Look to apples, bananas, peaches, watermelons, avocados –they are indeed fruit, and many others offer a tasty way to help your teeth.
Shrimp
Like crab and some other shellfish varieties, shrimp are an excellent source of fluoride. Considering how many ways shrimp is served, this opens a world of teeth-strengthening possibilities.
Crab
A favorite seafood option of many, crab has a prominent level of fluoride. Crab legs are an excellent choice and blue crab specifically packs a beneficial amount of the mineral.
Potatoes
Baked potatoes, particularly russet potatoes, have a significant amount of fluoride. Any type of potato prepared in any fashion will have some fluoride, with French fries being on the lower end of the scale. If you are trying to justify having some fries with your burger, however, there you go.
Grapes, Raisins, and Wine
In all their forms, grapes contain fluoride. If you were searching for a reason to have another glass of wine, here you go – just be sure to brush your teeth later due to the acidity and staining potential. Raisins have the most concentrated fluoride and the most sugar, so it's a give-and-take situation. In general, grapes are great for your health.
Other Potential Items
Just to give each a quick mention, here are some other items that contain fluoride: almond milk, light beer, black bean soup, white rice, oysters, asparagus, and cooked oatmeal, carrots, and spinach.
Can You Have Too Much Fluoride?
Indeed, there is. The good news is that the risk of overexposure is pretty low in the food items mentioned here. Children need about 500 micrograms and adults require about 3,000-4,000 micrograms per day.
Why Is Fluoride Intake So Important?
Fluoride is beneficial for teeth because it reduces cavities in adults and children. It is absorbed into your teeth' enamel. The mineral then goes to work replenishing your teeth' supply of phosphorous and calcium.
This is important because phosphorous and calcium work together to keep your teeth strong. The technical name for this process is "remineralization." Fluoride also helps stop tooth decay – thereby reducing the risk of developing cavities. If you aren't convinced by now, just ask your dentist in Waterbury about fluoride during your next visit!
About the Practice
At Waterbury Smiles, we have been working hard for area patients since 1986, and we can promise to continue to offer friendly service, the latest dental technology, and comfortable treatment rooms. It's nice to know that you don't have to depend only on toothpaste and dental visits for fluoride – you can eat many of the foods you love and get it through your diet. Speaking of dental visits, we are ready to help whether you need teeth whitening, dental implants, root canal therapy, or anything else. To make an appointment, visit our website or call (203) 575-9097.
Comments Off on What Foods Have Fluoride to Benefit My Teeth?
No Comments
No comments yet.
RSS feed for comments on this post.
Sorry, the comment form is closed at this time.