April 25, 2022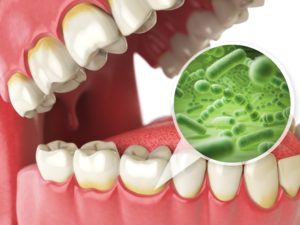 Tooth decay isn't the only danger lingering in your mouth. Gum disease is also a common cause of tooth loss. Healthy gums are vital to preserving your natural smile. However, the preventable infection can wreak havoc on your general health, too. Research has already found various medical conditions linked to gum disease, including heart disease, Alzheimer's disease, and respiratory disease. Your lung health doesn't have to become another casualty of the infection. Here's how to safeguard your smile to breathe a sigh of relief. 
Mouth and Body Connection
The mouth is often referred to as "the gateway to the body" because certain oral issues can influence general wellbeing. Gum (periodontal) disease is one of the biggest concerns, which is caused by plaque and tartar accumulations that harbors harmful oral bacteria. While the infection is easily treatable in the earliest stage (gingivitis), bleeding, red, and swollen gums can turn into tooth loss. The infection can destroy the supporting structures of your teeth and spread to other areas without treatment.
Unfortunately, the infection won't stop at your smile. It can enter your bloodstream, increasing your risk of heart attack, stroke, memory loss, pregnancy complications, and respiratory disease.
Gum Disease Linked to Lung Disease
As you inhale, tiny droplets containing germs from your mouth and throat can travel to your lungs. They can multiply quickly, restricting normal breathing, especially in the lower respiratory tract. It can lead to infection or worsening of existing lung issues, like asthma.
The average mouth contains over 700 species of bacteria. Many are crucial to your dental health and digestion, but too many bad bacteria can provoke disease. Bacteria from infected gum tissue can lead to multiple breathing issues because of an already suppressed immune system. On top of this, underlying respiratory disease is also associated with a poor immune system, increasing the likelihood of infections, like gum disease.
Promote Your Lung and Gum Health
Thankfully, it's easy to keep your gums healthy and protect your respiratory health using a few tips:
Commit to Brushing: Use a soft-bristled toothbrush and nonabrasive toothpaste to brush after every meal. Brush for 2 full minutes to clean all surfaces of your teeth.
Floss Daily: Just brushing leaves 40% of your teeth surfaces uncleaned. Use high-quality floss to clean areas your toothbrush missed to prevent plaque and tartar buildup.
Improve Your Lifestyle: Break any bad habits that can harm your oral and general health, like smoking, frequent sugar consumption, or heavy alcohol use.
Visit Your Dentist: Schedule a cleaning and checkup at least twice a year to keep your teeth and gums healthy.
If you develop any bleeding, redness, or swelling of your gums in between your regular appointments, don't wait to see your dentist. Taking care of your teeth can do more than just giving you an appealing smile.
About Dr. Alexandra Galante
Dr. Galante earned her dental degree from the Tufts University School of Dental Medicine. She strives to regularly continue her education to provide advanced services to her patients. Whether you need a cleaning and checkup or have signs of gum disease, she has the qualifications you can trust. Contact our office today to request an appointment.
Comments Off on Can Gum Disease Cause Lung Disease?
No Comments
No comments yet.
RSS feed for comments on this post.
Sorry, the comment form is closed at this time.