May 6, 2022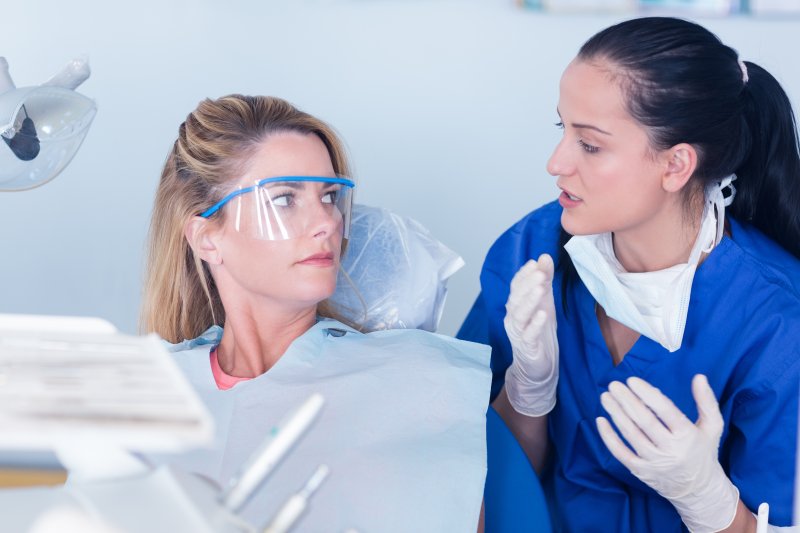 Brushing your teeth once in the morning and once at night is an important part of maintaining a healthy, well-functioning smile. After brushing, many people rinse their mouth out to get rid of excess toothpaste and foam, but is this the right choice for your smile? Read on to learn about the impact that rinsing after brushing has on your oral health.
How Fluoride Affects Your Teeth
Fluoride is a mineral that occurs naturally and is released by rocks into the water, soil, and air. Since it has also been proven to help lessen the risk of tooth decay, fluoride is added to many public drinking water sources in small amounts as well as dental hygiene products like toothpaste and mouthwash. For fluoride to be most effective, it should be applied directly to the teeth. For this reason, leaving this mineral on your pearly whites for several minutes can help strengthen them against cavities.
Rinsing After Brushing: to Skip or Not to Skip?
As beneficial as fluoride is to your oral health, the toothpaste that's leftover when you finish brushing shouldn't be swallowed. Since some dental hygiene products contain fluoride levels that are higher than the recommended daily amount, doing so is not recommended.
Additionally, since fluoride is more effective when left on your teeth for several minutes, rinsing after brushing may counteract many of the benefits. According to the U.K.'s Oral Health Foundation, it's better to spit out excess toothpaste or saliva rather than rinsing after brushing. Leave the fluoride on your teeth as you go about your day, and don't eat or drink for the next 10 minutes.
Potential Risks of Not Rinsing After Brushing Your Teeth
It's generally safe to skip rinsing your mouth out after brushing your teeth, but there are a few potential risks associated with fluoride ingestion. Though these side effects are incredibly rare when brushing your teeth with a pea-sized amount of toothpaste, a few potential risks are:
Nausea
Diarrhea
Diabetes
Fluorosis
Abdominal pain
Cognitive deficits
Early puberty in girls
Immune system problems
Cardiac insufficiency or failure
Risk of fractures and bone weakness
Temporomandibular joint disorder (TMD)
Though rinsing after brushing may be your first instinct, make sure to spit out leftover toothpaste instead. This will allow the fluoride to remain on your teeth for longer so your smile can fully reap the benefits of this magical mineral!
About the Practice
Led by Dr. Luciano Marini, Dr. Ann Marie Mancini, and Dr. Alexandra Galante, Waterbury Smiles has been providing patients in Waterbury and the surrounding cities with the care they deserve for nearly 40 years. They take pride in helping you maintain a healthy smile and offer a range of preventive services to make sure your oral health stays on the right track. Do you want to learn more about their oral health service offerings or to set up an appointment? If so, visit Waterbury Smiles' website or call their office at (203) 575-9097 to get started.
Comments Off on Rinsing After Brushing: Do or Don't?
No Comments
No comments yet.
RSS feed for comments on this post.
Sorry, the comment form is closed at this time.