July 4, 2022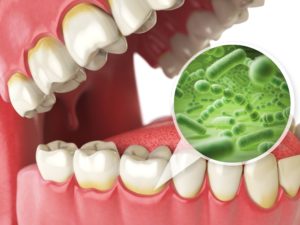 Teeth are meant to last for a lifetime; however, 120 million Americans are missing at least one tooth. Many people believe cavities are the only threat to their smiles, but gum disease is also a leading cause of lost teeth. The Centers for Disease Control and Prevention estimates at least 50% of adults have the preventable infection. Thankfully, when caught in the earliest stage, gingivitis, gum disease won't have any lingering complications for your smile. Don't worry, here are 6 home remedies to combat gingivitis to keep your gums healthy.
What Causes Gingivitis?
Gingivitis is caused by bacteria found in plaque and tartar buildup from poor oral hygiene habits. The accumulation causes red, swollen, and bleeding gums. While many people attribute bleeding gums to brushing too hard, it is one of the first signs of an infection. Without any treatment, gingivitis can progress to advanced periodontitis, which can destroy the supporting structures of your teeth.
Treating Gingivitis at Home
You can stop the infection in its tracks by acting at the first sign of gingivitis. Here's what you can do to safeguard your smile from tooth loss:
Commit to Brushing: Use a soft-bristled toothbrush and nonabrasive toothpaste to clean your teeth for two minutes twice per day. Clean all surfaces of your teeth and tongue to remove food particles and plaque.
Floss Every Day: Your toothbrush is effective, but it can't clean everywhere in your mouth. Flossing removes everything left behind by your toothbrush. Use high-quality dental floss at least once daily to clean between your teeth and around the gumline.
Use a Mouthwash: Use an antimicrobial mouthwash to kill any bacteria missed by brushing and flossing.
Schedule a Cleaning and Checkup: Besides brushing and flossing, schedule a cleaning and checkup every 6 months. Don't wait to see your dentist if you develop any symptoms of gum disease in between your regular appointments.
Live a Healthy Lifestyle: Don't smoke or drink alcohol excessively because both can increase your risk of infections and delayed healing.
Maintain a Balanced Diet: Eat nutritious foods and limit your consumption of sugars and starches.
Besides changing your oral habits at home, don't wait to see your dentist if you have swollen or bleeding gums. Your dentist will examine your mouth to determine if any additional treatments are necessary, like scaling and root planing. Also known as a deep cleaning, your dentist will remove plaque buildup and smooth the root surfaces of your teeth to restore your gum health.
You can avoid an infection in the future with a solid home oral hygiene routine, a healthy lifestyle, and regular care from a dentist. You'll ensure your smile stays healthy and beautiful for a lifetime.
About Dr. Luciano Marini
Dr. Marini earned his dental degree at the University of Connecticut School of Dental Medicine and has completed extensive continuing education in many advanced services. As a member of various professional organizations, including the American Dental Association, he can provide the high-quality care you deserve. Contact our office today to request an appointment.
Comments Off on 6 Tips to Treat Gingivitis
No Comments
No comments yet.
RSS feed for comments on this post.
Sorry, the comment form is closed at this time.