July 15, 2022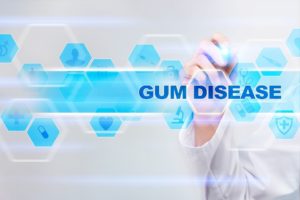 Tooth decay isn't the only threat to your dental health. Gum disease is also a leading cause of missing teeth. The Centers for Disease Control and Prevention estimates at least 50% of adults have the preventable infection. Although the initial signs of gum disease may not seem alarming, bleeding and swollen gums can progress to tooth loss. Thankfully, your dentist can stop the infection in its tracks with gum disease therapy, which may include a medication called Arestin. Here's how antibiotic therapy can restore your gum health quickly. 
What is Arestin?
Arestin is in a class of drugs called tetracycline antibiotics, which prevent bacteria growth. It's a powerful medication proven effective in treating oral infections, like gum disease. It's released over time to achieve lasting benefits, which can be combined with other treatments, like scaling and root planing.
How Does Arestin Work for Gum Disease?
Your dentist will prepare the product to place in the infected tooth pockets. Often, this is done after scaling and root planing, also known as a deep cleaning. After removing tartar buildup and smoothing the root surfaces, the antibiotic is placed in the gingival pockets. You'll be advised to avoid eating or drinking anything for at least 30 minutes after the treatment.
Your dentist will instruct you to not touch the area for 7 days. It's best to avoid hard, crunchy, or chewy foods for about 1 week. Although it's important to keep your smile clean, don't floss between the treated teeth for 10 days. However, you can brush your teeth 12 hours after the antibiotic has been applied. The overall success of the treatment relies on following your dentist's directions.
Preserve Your Gum Health
After completing gum disease therapy, you can keep the infection from reoccuring by committing to your dental health using a few simple tips:
Solid Home Oral Hygiene Routine: Brush your teeth at least twice daily using a soft-bristled toothbrush and nonabrasive toothpaste. Brush all surfaces of your teeth for at least 2 minutes and floss nightly. Add a daily mouthwash to kill any bacteria left behind by your toothbrush or floss.
Live a Healthy Lifestyle: Don't smoke or consume alcohol heavily because both can increase your risk of gum disease.
Visit Your Dentist: Visit your dentist every 6 months for a cleaning and checkup. They'll remove any tartar accumulations and examine your mouth to look for anything concerning, like swollen gums. Quick detection allows for early treatment to keep your teeth and gums healthy.
Your oral health doesn't have to be another casualty of gum disease. Your dentist has the personalized solutions you need to safeguard your smile from infection.
About Dr. Luciano Marini
Dr. Marini earned his dental degree at the University of Connecticut School of Dental Medicine and regularly continues his education in advanced services, like gum disease therapy. As a member of various professional organizations, including the American Dental Association, he provides the high-quality solutions you need for optimal oral health. Contact our office today to request your consultation.
Comments Off on Treat Gum Disease with Arestin
No Comments
No comments yet.
RSS feed for comments on this post.
Sorry, the comment form is closed at this time.