August 11, 2022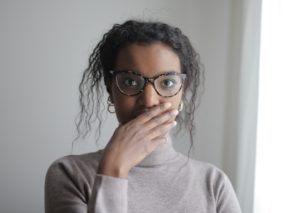 Did you know up to 50% of adults have persistent bad breath? It's normal for your breath to stink occasionally, like when battling nasal congestion or after eating your favorite garlicky dish. However, 60 million Americans suffer from chronic halitosis. You don't have to be embarrassed by dragon breath anymore because August 6th is National Fresh Breath Day. The annual celebration raises awareness about how to keep foul odors in check with a solid oral hygiene routine. 
Keep Your Mouth Clean
Foods or smoking can leave lingering odors in your mouth, which will dissipate after a while. However, bad breath can be ongoing if you have halitosis because foods aren't the only culprit. Instead, a buildup of harmful oral bacteria from poor oral hygiene habits or irregular dental care is causing the stink. Thankfully, the solution to stop the odors is easy. Revamping your oral hygiene is a quick way to freshen your breath.
Use a soft-bristled toothbrush and nonabrasive toothpaste to clean your teeth, tongue, and the insides of your cheeks at least twice daily. Clean all surfaces of your teeth for at least 2 minutes each session.
Besides brushing, use high-quality dental floss to clean between each tooth. Although brushing is effective, your toothbrush can't reach everywhere, which can leave up to 40% of your teeth uncleaned. Flossing is the only way to clean the areas where odor-causing bacteria can hide. Complete your daily oral hygiene routine with an antimicrobial mouthwash.
Visit Your Dentist Regularly
The American Dental Association recommends semi-annual cleanings and checkups, even if you don't have any oral health concerns. A routine dental cleaning removes tartar buildup to keep your gums healthy and your breath fresh. Your dentist will examine your mouth to look for any dental concerns.
Some oral health issues can lead to chronic bad breath or a strange taste in the mouth, like infections or decay. If you have a cavity or gum disease, your dentist will create a personalized plan to restore a healthy smile, so you don't have to worry about the way your breath smells when chatting with a friend.
Watch What You Eat and Drink
You can prevent unwanted odors by adjusting your diet. Avoid onions and garlic, as well as sugary foods and drinks. It's best to limit alcohol consumption because it can dry out your mouth, increasing bacteria growth. Instead, drink plenty of water to keep your mouth moist and clean between brushing and flossing.
Don't let insecurities about your breath hold you back from laughing with a loved one or stealing a kiss from your partner. After a few changes at home, your breath will be the last thing on your mind.
About Dr. Alexandra Galante
Dr. Galante earned her dental degree from the Tufts University School of Dental Medicine. She combines her qualifications with up-to-date services to create healthy smiles that last through the power of prevention. Contact our office today to request an appointment if it's time for your next cleaning and checkup.
Comments Off on Stop the Stink with National Fresh Breath Day
No Comments
No comments yet.
RSS feed for comments on this post.
Sorry, the comment form is closed at this time.