August 9, 2022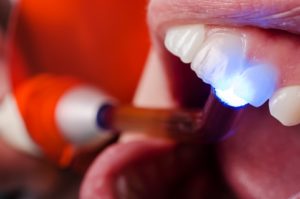 You don't have to be rich or famous to invest in cosmetic dentistry. There's a solution to fit all budgets because of the diversity of treatments available, like dental bonding. It offers a lot of bang for your buck because it's effective, convenient, and affordable, but how long does it last? You can enjoy a confident, beautiful smile for many years with the right maintenance, and here's how. 
What is Dental Bonding?
Dental bonding uses a composite resin to fix minor imperfections. The material is customized to match the color of your enamel to blend in with your tooth. Your smile will look natural when used to address:
Tooth decay
Exposed tooth roots
Stains or discoloration
Chips or breaks
After just one appointment, you won't be embarrassed by cosmetic imperfections any longer using the minimally invasive procedure without a long recovery. In some cases, it may even be covered under your dental insurance, so you can enhance your smile, even if money is tight.
Is Dental Bonding Permanent?
Unfortunately, dental bonding isn't permanent; however, it can last for several years with the correct care. The average life expectancy is about 5-7 years before needing to be touched up or replaced; however, it can last for a decade or longer. Various factors affect the lifespan, like your oral hygiene routine and habits at home.
How to Maintain Dental Bonding
Although dental bonding won't last forever, you can protect your investment using a few easy tips:
Brush and Floss: Use a soft-bristled toothbrush and nonabrasive toothpaste at least twice daily. Brush for at least 2 minutes each time. Don't forget to floss between each tooth nightly.
Watch What You Eat: Limit sugary foods and drinks to prevent decay. Moderate how often you have dark foods and drinks. Your dentist will also recommend limiting hard or sticky foods.
Visit Your Dentist: Visit your dentist every 6 months for a cleaning and checkup.
Break Bad Oral Habits: Don't use your teeth as tools or in place of scissors. Keep inedible objects out of your mouth to avoid damaging your bonding.
Is Dental Bonding Worth the Investment?
Dental bonding may not last for a lifetime, but it's worth the investment. You can't put a price on the benefits you'll achieve with an attractive smile. You'll boost your self-esteem while looking younger, successful, and happier. Besides improving your quality of life, bonding offers other advantages, including:
Natural-looking results
Durable
Quick, comfortable procedure
Affordable
If you're ready to discover the benefits of a stunning smile for yourself, schedule your consultation today to begin your journey to better confidence with dental bonding.
About Dr. Ann Marie Mancini
Dr. Mancini earned her dental degree from the Tufts University School of Dental Medicine and she regularly continues her education to provide advanced services, like cosmetic dentistry. She is a proud member of various professional organizations, including the American Dental Association. Dr. Mancini has the experience and qualifications you can trust to revamp your smile. Contact our office today to request your consultation.
Comments Off on How Long Does Dental Bonding Last?
No Comments
No comments yet.
RSS feed for comments on this post.
Sorry, the comment form is closed at this time.