October 1, 2022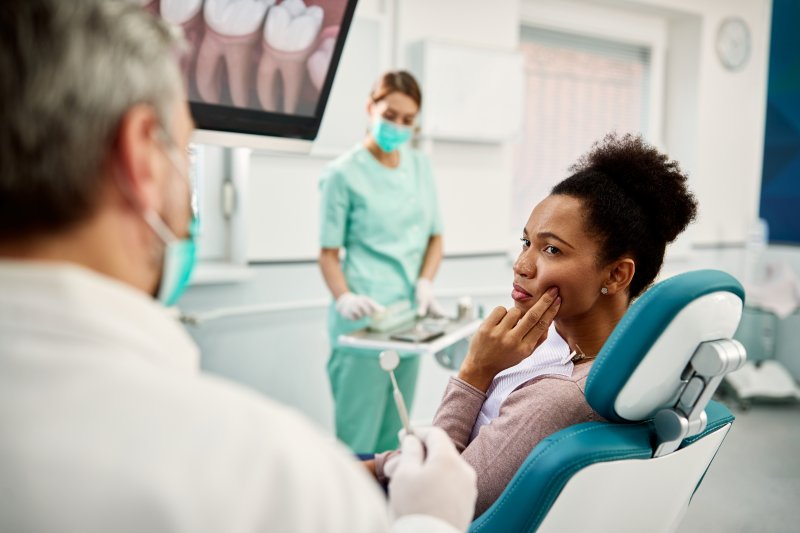 Odds are that if you're googling "root canal vs tooth extraction," you're in a fair amount of pain. In that condition, it can be a little bit difficult to make decisions about what's best for your oral health.
For serious toothaches caused by infected pulp, there are two common options: a root canal and an extraction. Here's how to decide which one would be best for you.
What is a Root Canal?
An extraction is simple to explain: your dentist removes the problem tooth. Root canals, however, are a bit more complicated.
First of all, root canals should only be done in response to "irreversible pulpitis," an infection that is deep within the tooth and incurable. If your condition is reversible, you should use another method.
The dentist will drill a hole in the top of the tooth, and extract all of the dead and infected pulp. They will then replace the pulp with a polymer designed to prop up the inside of the tooth. The hole is then sealed and, in most circumstances, a dental crown is placed on top.
The result is a tooth that can maintain its structural integrity. The procedure is done at one appointment (you might need a second for the dental crown) and is made completely painless by anesthetics.
The Positives of a Root Canal
For many patients, root canals are probably the best choice. They are fast and easy treatments, usually involving no pain and a relatively short recovery period. They also tend to be less expensive than extraction with an implant. Finally, implants are incredible but require a little extra care to maintain. For example, the way you floss will have to change. Other tooth replacement options, like bridges and dentures, similarly require a little bit of practice to care for properly. Root canals preserve both your natural tooth and the structure around it, so your dental hygiene routine shouldn't have to change much.
When Having the Tooth Extracted Is a Better Option
There are some reasons why you may prefer tooth extraction to a root canal. For example, if the tooth has sustained extensive decay or damage, it may be the quickest and most effective way to restore your oral health. Don't worry – your dentist can fill the gap in your smile to prevent your teeth from moving or your bite from being negatively impacted. One of the most common solutions is dental implants, which can last for 30+ years with proper care.
In most cases, a root canal is the option you should go for. If you're still not sure, ask your dentist at your next appointment what they recommend. They'll be able to give you more personalized advice with your specific dental needs in mind.
About Our Practice
Since 1986, we at Waterbury Smiles have been making each treatment, no matter how involved, as comfortable as possible for everyone who visits our office. We give our patients access to the latest in dental technology and do so while making them feel completely at ease. If you have any questions about root canals, we can be reached via our website or by phone at (203) 575-9097.
Comments Off on Root Canal vs Tooth Extraction: Which is Best?
No Comments
No comments yet.
RSS feed for comments on this post.
Sorry, the comment form is closed at this time.