November 14, 2022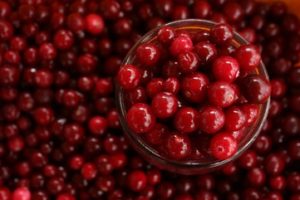 Cranberries are a tasty, nutritious treat that is considered a superfood because of their high nutrient and antioxidant content. Research supports their use for lowering the risk of urinary tract infections and preventing certain types of cancer. They can even improve your immune system and decrease blood pressure, but those aren't the only benefits. Researchers have found a handful of cranberries can safeguard your smile from decay and gum disease.
Cavity-Fighting Powers of Cranberries
Scientists have found surprising results when evaluating the cavity-fighting potential of dark berries, like cranberries. Although they are small, they are loaded with natural compounds called polyphenols, which are known to fight harmful oral bacteria. As a result, they can protect the teeth against a strain of bacteria that can accelerate tooth decay.
With 91% of adults having cavities, adding cranberries to your diet can help protect your enamel from bacteria. Researchers have found that cranberry juice can reduce oral plaque by 95% because it decreases sugars in your mouth that create acids.
Gum Disease Prevention with Cranberries
A recent study supports previous research regarding the oral health benefits of cranberries, which found they prevent "bad bacteria" from sticking to the teeth and gums. Not only can this keep tooth decay at bay, but it can also promote your gum health to ward off infection.
Polyphenols linger in your mouth long after eating cranberries, so they can continue to protect your smile, even after swallowing. With 50% of adults having gum disease, cranberries can promote gum health because they offer anti-inflammatory properties and trigger your immune system's response to infections.
Support a Healthy Smile
Although cranberries are proven to help keep your teeth and gums healthy, they aren't a substitute for your home oral hygiene habits or regular dental care. The American Dental Association recommends brushing your teeth for 2 minutes in the morning and night using a soft-bristled toothbrush and fluoride toothpaste. Don't forget to floss between each tooth before going to bed. Besides brushing and flossing, limit how often you have sugar and eat a nutritious diet.
Schedule a cleaning and checkup with your dentist every 6 months. They'll remove tartar buildup and check your mouth for anything concerning, like decay or infections. They'll monitor your oral health to provide a quick diagnosis and treatment. They'll also discuss ways to keep your smile healthy in between appointments, like choosing the right snacks.
Adding cranberries to your morning oatmeal or cranberry sauce to your dinner plate can give your oral health a boost to preserve your natural smile. Although they are beneficial, they can stain your enamel, so brush your teeth after you've finished eating. If you can't get to your toothbrush, rinse your mouth with water to safeguard your pearly whites.
About Dr. Luciano Marini
Dr. Marini achieved his dental degree from the University of Connecticut School of Dental Medicine and regularly continues his education to provide modern services. If it's time for your next cleaning and checkup, choose an award-winning dentist. Contact our office today to request an appointment.
Comments Off on Can Cranberries Fight Cavities?
No Comments
No comments yet.
RSS feed for comments on this post.
Sorry, the comment form is closed at this time.