December 9, 2022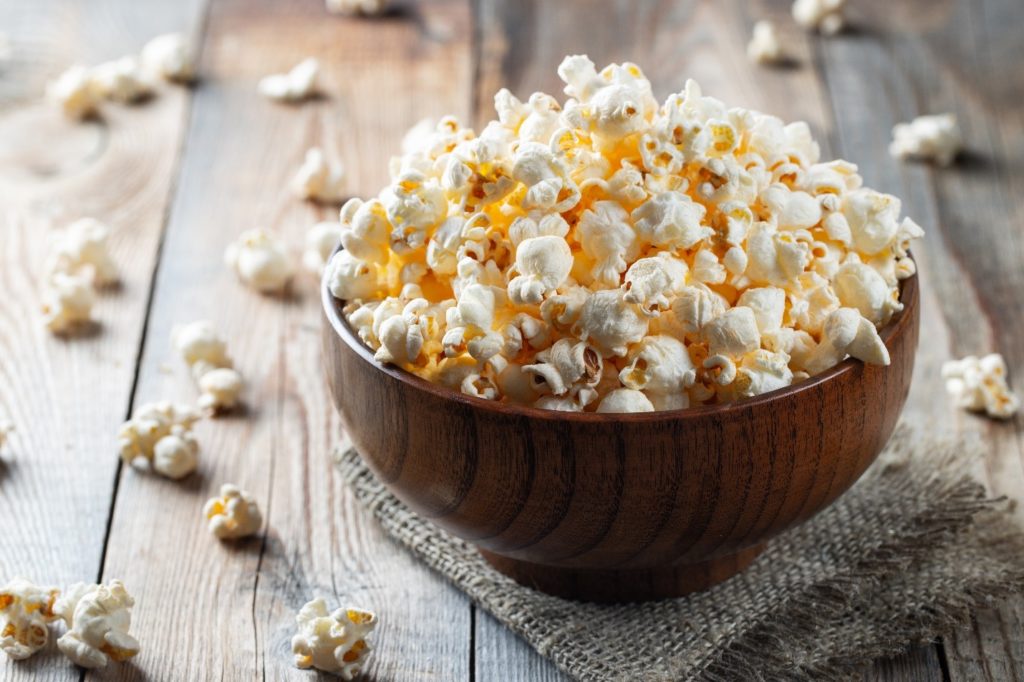 Popcorn is a tasty treat that's a favorite of many. Whether you like kettle corn, popcorn balls, special seasonings, or just classic salt and butter, this snack is undoubtedly engrained in our culture. That's especially true when it comes to a night out at the movies or an evening at home watching a flick on your favorite streaming platform. If you're a big fan of popcorn, you may be disappointed to hear that it doesn't always affect your smile in the best ways. Continue reading to learn about the negatives of popcorn and oral health.
Lactic Acid & Your Smile
One reason that popcorn and oral health don't mix is because of lactic acid. This substance is mainly produced in muscle and red blood cells but can also be found in popcorn. Lactic acid forms when carbohydrates break down to be used as energy for the body. Though lactic acid naturally occurs in some parts of your body, your mouth isn't used to it. Since acid strips your tooth enamel, eating popcorn can raise your risk of developing cavities.
Other Ways Popcorn Harms Your Teeth
Lactic acid isn't the only thing about popcorn that can mean bad news for your oral health. You also need to worry about popcorn hulls, which are the thin coatings around the kernels. They can get stuck between your teeth, which gives the oral bacteria that cause cavities a food source. These bacteria will then release acids that damage your enamel and raise your risk of decay.
Additionally, unpopped kernels put you at risk of accidentally biting down on them. This may lead to chips or cracks in your pearly whites, which will need to be fixed before the tooth breaks or bacteria get into it and cause an infection.
6 Foods You Should Eat Instead
Fortunately, there are other tasty snack options that will make for great movie night treats, such as:
Fruits – Fruit like strawberries, grapes, blueberries, apples, pears, oranges, and raspberries are high in fiber and also have a high water content.
Veggies – Celery, cucumbers, and carrots can be paired with hummus and other sauces or dips.
Dairy products – Cheese sticks and yogurt cups are full of calcium and make for great snacks.
Nuts – Soft, salted, protein-packed nuts like almonds, walnuts, and cashews are a great alternative to popcorn.
Chocolate – Dark chocolate contains less sugar than milk chocolate and is easier to wash away than other candies.
Sugar-free candy – Gum, hard candies, peanut butter cups, and gummies are examples of a few candies that have sugar-free variants.
Skipping the popcorn during your next movie night may take some getting used to, but your smile will thank you for it. Though the link between popcorn and oral health isn't the best, there are tons of other snacks that will make the next film you watch all the more memorable!
About the Practice
Drs. Ann Marie Mancini, Luciano Marini, and Alexandra Galante are the three skilled dental health professionals who head the compassionate team at Waterbury Smiles. They take pride in what they do and enjoy helping patients regain their confidence in their beams. They can teach you about what foods are and aren't good for your smile, such as the link between popcorn and oral health. If you want to make an appointment with Waterbury Smiles or to learn more, call (203) 575-9097 or visit their website.
Comments Off on Popcorn and Oral Health: Can It Harm Your Smile?
No Comments
No comments yet.
RSS feed for comments on this post.
Sorry, the comment form is closed at this time.