April 2, 2023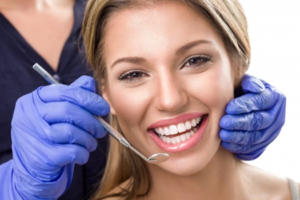 Your smile is perhaps the first feature that strangers notice about you, meaning that you should want your pearly whites to look as stunning as possible! This is perhaps why the demand for cosmetic dentistry has skyrocketed recently; per the American Academy of Cosmetic Dentistry, the demand for cosmetic dental work has literally doubled within the last five years. But if you're on the fence about undergoing cosmetic work, something you might be concerned about is the safety of some of these procedures. Here's why you have nothing to worry about when it comes to safely augmenting your pearly whites with the help of your cosmetic dentist.
Cosmetic Dentistry Is Safe
People undergo cosmetic dentistry for a variety of reasons, but most of them are centered around the enhancement of their smile in terms of appearance. And you'll be happy to hear that thanks to modern advancements in dental technology, these treatments are now easier and quicker to perform, let alone safer than ever before!
This is in part due to the materials used in cosmetic dentistry; dentists are well past the point of having to apply bizarre or seemingly weird things to your teeth. Historically, an assortment of odd methods and ingredients have been used for smile enhancement; however, newer treatments use mouth-friendly materials that don't just look good when applied, but are also completely safe!
It's also worth noting that dentists will always prioritize a patient's health and will only perform cosmetic dental work on qualifying patients. Usually, an oral health screening is all that's needed to determine eligibility.
Common Cosmetic Treatment Options
There are many ways to enhance the look and feel of one's smile, but a few popular choices that stand out and are very popular among patients include things like:
Teeth whitening
Cosmetic bonding
Porcelain veneers
The Priceless Benefits of Cosmetic Dentistry
It's important to mention that cosmetic dentistry can benefit more than just the look of your smile! Many patients become extra motivated to care for their teeth and gums after they've been enhanced, which leads to a sense of due diligence when it's time to brush and floss each day. Needless to say, this directly translates into fewer oral health issues.
Visiting the dentist, even if it's just for cosmetic work, also allows your provider the opportunity to inspect your mouth for signs of distress. These oral health screenings are dual-purpose in this sense; they don't just qualify you for treatment, but also ensure that things are healthy moving forward!
And in some cases, certain cosmetic procedures can even offer increased oral functionality by addressing bite problems or restoring damaged teeth. Although it will depend solely on your individual needs, cosmetic dentistry has the potential to completely refurbish your smile in terms of look and feel—and in a completely safe manner.
About the Author
A Waterbury native himself, Dr. Luciano Marini received his dental doctorate from the University of Connecticut School of Dental Medicine and has proudly served patients and families in his hometown for several years. His practice offers a wide range of cosmetic services that are certain to help you achieve the brightest and whitest smile possible! If you have any questions about the blog or would like to arrange a visit, feel free to contact Dr. Marini through his website or over the phone: (203) 575-9097.
Comments Off on Why Cosmetic Dentistry Is Perfectly Safe
No Comments
No comments yet.
RSS feed for comments on this post.
Sorry, the comment form is closed at this time.