May 4, 2023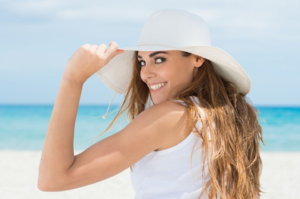 Summer is right around the corner—get ready for warmer weather, poolside shenanigans, and all sorts of fun adventures and memory-making! But before you kick off your summer festivities, you should consider scheduling a visit with your dentist for a checkup and cleaning, as summer is a fantastic and convenient time to do so. Here are three reasons why.
Summertime Provides a Large Window for Treatment
Things tend to slow down during the summertime, and we often find ourselves with a little extra downtime during these months. Whether it's a break from school, time off from work, or celebrating one of the many holidays, the summer offers plenty of time for all sorts of activities—including dental checkups! Taking advantage of the generous summertime window means you won't have to stress about skipping out on other important things to get the dental care you need. Plus it also gives your dentist time to start (and finish) any complex procedures.
Your Smile's Health Is Set Up for the Rest of the Year
By visiting your dentist early on in the summer, you can ensure that your smile is in great shape heading into the upcoming months and the following autumn. If there are any underlying health issues that need to be addressed, your dentist can easily handle them. Plus, if you have dental insurance, the summer months are roughly halfway through the calendar year—meaning that if you haven't attended your first preventive checkup of the year, now's a good time!
Not to mention, it can get pretty hot in some places during the summer, and you might feel like indulging in all kinds of sweet treats and sugary drinks—as cool and refreshing as popsicles and iced teas might be, they aren't great for your smile, which is all the more reason you should visit your dentist beforehand!
Dental Emergencies Can Derail Your Summer Fun
The bottom line is that dental emergencies can happen at any time or in any place, and they don't discriminate; you could certainly experience one during summer vacation. However, a healthy smile is far less likely to encounter emergencies, so going to your dentist beforehand will help to safeguard your smile from urgent situations—at least to a certain extent. Not to mention, if something does happen, this also means you'll already have a dentist you can trust to quickly handle the situation and get your smile back on track!
About the Author
Dr. Luciano Marini received his dental degree from the University of Connecticut School of Dental Medicine and is a proud member of several professional organizations including the American Dental Association and the Connecticut Dental Association. His practice in Waterbury is thrilled to offer a wide range of preventive, cosmetic, and restorative options that can help you and your loved ones achieve healthy and bright smiles just in time for the summer. If you have any questions about the blog or you'd like to arrange a visit, you can contact the practice online or over the phone for assistance: (203) 575-9097.
Comments Off on Kick-Off Your Summer Vacation with a Trip to Your Dentist
No Comments
No comments yet.
RSS feed for comments on this post.
Sorry, the comment form is closed at this time.