March 6, 2021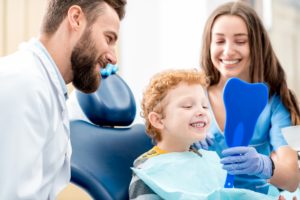 Your family's oral health is important to you, but everyone has unique needs. It can be a challenge ensuring they all receive the care they require because there are various age groups in your home. This can mean juggling different dental offices for any necessary treatments. What if there was a simpler way for your loved ones to get the services they rely on? There is with a family dentist in Waterbury by your side. Here are 5 great benefits of choosing a family-friendly dental practice.
1. Enjoy Convenient Care
With multiple ages in your home, you can skip the hassle of visiting different dentist offices. Everyone can get the care they need under one roof. You can even book appointments on the same day, which is perfect if you have a busy schedule.
2. Benefit from a Variety of Services
A dentist in Waterbury who caters to families will offer a wider selection of services. This prevents needing to be referred to a specific location for a certain treatment. Whether your child needs to have a cavity filled, or a parent needs a denture, you can enjoy complete care from one dental practice.
3. Better Relationship with Dentist
By having everyone's needs met by one dentist, they will build a strong bond with their dental team. Your dentist will have a greater understanding of your family's oral health history to provide more personalized care. Not to mention, everyone in your home will come to trust their dentist to promote stress-free appointments for a greater commitment to their dental health.
4. Easy Dental Record Storage
Your family's dental health history will be stored at one location, which simplifies their oral health records. Your loved ones' charts will be kept in one place to make it less likely for something to fall through the cracks.
5. Set the Example for Children
You can set the example for your children because they will see you committing to your oral health. As a result, they are more likely to make theirs a priority. You'll give them the foundation they need to invest in their teeth and gums to ensure their smile stays healthy for a lifetime.
Invest in a Family Dentist
If your loved ones aren't under the care of a family dentist, now is the ideal time to make the switch. Don't Google, "family dentist near me." Instead, take the time to find the right dental practice for your home. Ask friends and neighbors for recommendations and take the time to review each dentist's qualifications and services. With the best family dentist by your side, you can create generations of healthy, beautiful smiles.
About Dr. Luciano Marini
Dr. Marini earned his dental degree from the University of Connecticut School of Dental Medicine. He has experience providing complete phases of dental care to patients of all ages. Dr. Marini regularly continues his training to deliver the advanced solutions his patients need for optimal oral health. If you're looking for a great family dentist, contact our office today to schedule an appointment.
Comments Off on 5 Benefits of Choosing a Family Dentist
No Comments
No comments yet.
RSS feed for comments on this post.
Sorry, the comment form is closed at this time.